John August To Write Shazam! Movie Featuring Captain Marvel
Go screenwriter John August has been hired to adapt the DC comic book Shazam! for New Line Cinema. Peter Segal (50 First Dates) is attached to direct.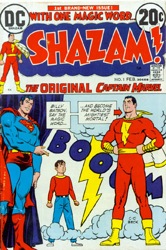 Created in 1939 by artist C.C. Beck and writer Bill Parker, Shazam! features Captain Marvel, the alter ego of Billy Batson, a youth who works as a radio news reporter and was chosen to be a champion of good by the wizard Shazam. Whenever Billy speaks the wizard's name, he is instantly struck by a magic lightning bolt that transforms him into an adult superhero empowered with the abilities of six legendary figures. Several friends and family members, most notably Marvel Family cohorts Mary Marvel and Captain Marvel, Jr., can share Billy's power and become "Marvels" themselves.
Captain Marvel was the most popular superhero of the 1940s. It even sold more copies than Superman in those years. Captain Marvel was also the first superhero to be adapted to film in 1941 (The Adventures of Captain Marvel).
Fawcett ceased publishing Captain Marvel-related comics in 1953 due to a copyright infringement suit from DC Comics alleging that Captain Marvel was an illegal infringement of Superman. DC licensed the Marvel Family characters and returned them to publication in 1972, but Marvel Comics had already trademarked their Captain Marvel comic book during the interim. DC Comics is now unable to promote and market their Captain Marvel/Marvel Family properties under that name. Hence the title Shazam!
The project has been around forever. At some point both William Goldman (The Princess Bride) and Bryan Goluboff (The Basketball Diaries) penned drafts.
John August is the best underused screenwriter working today. His feature directorial debut The Nines made it's debut at the 2007 Sundance Film Festival. It ranked as one of our favorite films of the festival.
"It's a unique opportunity to do a comic book movie where the character in it actually read comic books," said August. "What's terrific about the character is that he looks like this superstudly superhero but is really a 13-year-old boy. And to approach everything that is great about a superhero movie from a 13-year-old boy's perspective was a unique way in."
"I think we're going to be able to be really faithful to the mythology and yet make it completely transparent for people who have no idea who the character is," August said.
August sat down with DC Comics writer Geoff Johns to "idiot check" the ideas.
I've never really been a fan of Captain Marvel, because he always seemed like a weaker version of Superman (I'm sure fanboys will tell me different). But as I've said before, August is an incredible talent, and I believe that he will craft the best Shazam! script possible. But is the best case scenario good enough?