Kevin Smith Movie Project Updates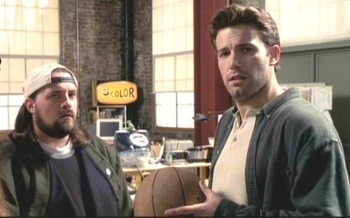 Two weeks back, Kevin Smith told the crowd at the New York Comic Con that he would be shooting back-to-back films starting this winter. The only thing that was revealed is that one would be a horror, and the other would be a comedy that "had to be shot in the winter." Now we have a couple more details.
The comedy is actually a romantic comedy script Smith wrote with Rosario Dawson in mind to star. Smith says the budget for that project will be more than Clerks II ($5 million) but less than Jay and Silent Bob Strike Back ($22 million). So we're guessing it will be in the safe $15-18 million range. We previously reported that Smith was looking to film part of one of his next movies in Minnesota because he needs snow. This would gel with his New York Comic Con comment.
The horror film will have a much lower price tag, probably around $4 million. Smith has previously stated that no stars will be cast in that film.
"The schedules (and, mind you, said schedules are only speculation at this point) will only change based on "Manchild" NOT getting picked up. Then, we'll be able to shoot a little earlier on the horror flick."