Stupid Movies: Homo Erectus Movie Trailer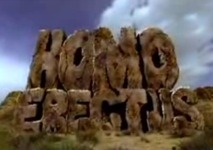 I can imagine a writer standing in the big office of a studio executive's office. He pitches this idea for a comedy where Cavemen who yearns for more out of life than sticks, stones and raw meat. It could be a good movie, right? Wrong.
Homo Erectus is directed by Adam Rifkin and stars Adam Rifkin, Ali Larter, David Carradine, Talia Shire, Hayes MacArthur, Gary Busey, Tom Arnold, Giuseppe Anddrews, Miles Dougal, Ron Jeremy and Carol Alt.
Check out the trailer below:
[youtube]azYFAxG21jA[/youtube]