The Comebacks Gets Pushed Back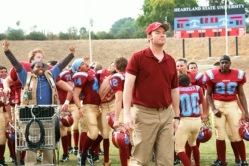 The Tom "I'm not the guy who plays football for the New England Patriots" Brady-directed inspirational sport spoof The Comebacks has been pushed back six months.
May-be this explains why they only displayed 10-minutes in Aspen. The film had a lackluster preview showing at the US Comedy Arts Festival last week. Our friends at FirstShowing enjoyed the "special preview" more than expected, but is that good enough? My best guess is the movie needs some reworking.
But we do know this, the movie will open on August 24th 2007, instead of the previously scheduled March 23rd debut.
The official synopsis follows:
A hilarious comedy that spoofs the best inspirational sports movies ever made, THE COMEBACKS tells the story of an out-of-luck coach, Lambeau Fields, who takes a rag-tag bunch of college misfits and drives them towards the football championships. In the process, of course, this life-long loser discovers that he is a winner after all – redeeming himself, saving his relationship with his family and friends, and finds that there is indeed, no "I" in "team"! The film stars David Koechner, best known for his role of "Champ" in Anchorman, Carl Weathers, and a talented young cast including Matthew Lawrence, Brooke Nevin, Jackie Long, and Jesse Garcia. The film is directed by Tom Brady, and produced by Tapestry Films, who also brought you Wedding Crashers.