Mary Lynn Rajskub Gets More Sunshine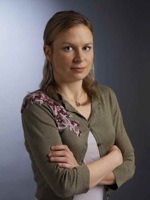 Mary Lynn Rajskub, who plays the very awkward Chloe on the hit tv show 24, has joined the cast of Sunshine Cleaning.
Pop Quiz: Strangely, this is the second film Rajskub has done in the last two years that had "sunshine" in its title. Do you know what the other movie was? Answer and more information after the jump.
Answer: Mary Lynn played a pageant assistant in "the indie comedy that could've but didn't," Little Miss Sunshine.
The Christine Jeffs' directed indie stars Amy Adams and Emily Blunt as sisters who find meaning and understanding in life when they team to run a service cleaning up after crime scenes and traumas. Rajskub will play the object of Blunt's sexual obsession.
Mark this one on your calendars folks!