Contest: Alexander Revisited On DVD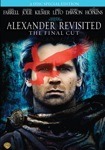 Alexander Revisited hit DVD Store
shelves on February 27th, and we have a copy for one lucky /Film reader. All you need to enter is to e-mail us with the reason why you should win. On March 6th we will e-mail the winner with the best answer. More information on the release can be found after the jump.
In a rare turn, WHV has given Oliver Stone the time and budget to re-edit Alexander for a third & final time, with no studio involvement.  Stone has been able to recreate the film in his original vision, at the length required by the script.
In breaking the constraints of the requirements for a theatrical release, Stone's epic now presents a clearer story of the rise of Alexander.  The film now boasts a 3 1/2 hour runtime with an intermission, in the tradition of classic Hollywood epics.