Charlie Kaufman's Synecdoche, New York Begins In May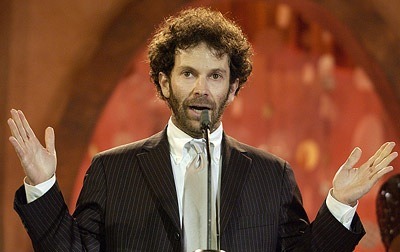 Academy Award-winning screenwriter Charlie Kaufman will begin principal photography on Synecdoche, New York in May.
The shoot will begin on May 21st in New York, and will continue for ten weeks. We first told you about this film last year. Many of you will recognize Kaufman's name from his unique screenwriting credits: Being John Malkovich, Human Nature, Adaptation., Confessions of a Dangerous Mind and Eternal Sunshine of a Spotless Mind.
The movie will star Philip Seymour Hoffman, Catherine Keener, Michelle Williams, Samantha Morton and Tilda Swinton. Hoffman will play a theater director named Caden, who ambitiously attempts to put on a play by creating a life-size replica of New York inside a warehouse after finding out something is wrong with him on a trip to the dentist. Keener plays his first wife, Williams will play his second wife, Morton will appear as his sometime lover, and Swinton will portray Keener's best friend and the dubious mentor to the daughter of Hoffman and Keener's characters. The movie goes into themes such as the nature of family, of home, and of male-female relationships.
"Synecdoche" is a clever play on "Schenectady, New York" where some of the film takes place. The word is also a figure of speech in which a part is used to describe the whole or the whole is used to describe a part. Confused? Me too. One person used the example of what "threads" do for clothes.
Anthony Bregman described the movie as "a massive undertaking of visually elaborate worlds and stunningly complex characters and ideas."
"Ambitious doesn't even begin to describe the sublime and scary head-trip that is Synecdoche, New York," wrote LA Times columnist Jay Fernandez, who had the chance to read the script last year. "[It's] really a wrenching, searching, metaphysical epic that somehow manages to be universal in an extremely personal way. It's about death and sex and the vomit-, poop-, urine- and blood-smeared mess that life becomes physiologically, emotionally and spiritually (Page 1 features a 4-year-old girl having her butt wiped)."
"It reliably contains Kaufman's wondrous visual inventions, complicated characters, idiosyncratic conversations and delightful plot designs, but its collective impact will kick the wind out of you," Jay continued. "Synecdoche will make Adaptation and Eternal Sunshine look like instructional industrial films. No one has ever written a screenplay like this. It's questionable whether cinema is even capable of handling the thematic, tonal and narrative weight of a story this ambitious."
I'm sure the film will be out by year's end. I can't wait.