More Magic Movies: Houdini Announced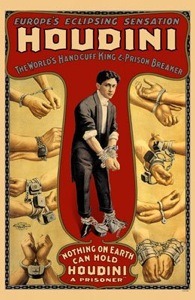 Last year was the year of the dueling Magic films (The Prestige, The Illusionist). But the magic spell isn't gone – 2007 will be the year of the dueling Houdini movies.
Walden Media has hired Brett Merryman (The Good Mother) to write a screenplay for Houdini. Houdini takes place in modern day. A 14-year-old boy discovers he's a descendant of Harry Houdini and embarks on a quest to unravel the secrets of his ancestor's past.
Mean Girls director Mark Waters is attached, but no production schedule has been set.
And that's not the only Houdini movie coming out. At last year's American Film Market, The Weinstein Co. picked up U.S. rights to Gillian Armstrong's (Little Women) supernatural romantic thriller Death Defying Acts, which stars Catherine Zeta-Jones and Guy Pearce, who plays escape artist Harry Houdini. That movie will be released in 2007.