The Buzz: Wild Hogs Is Witless And Hard To Stomach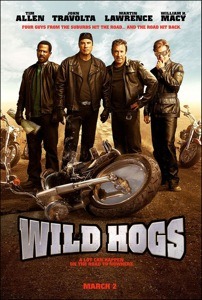 Wild Hogs
Director: Walt Becker
Starring: Tim Allen, John Travolta, Martin Lawrence, William H. Macy, Ray Liotta, Marisa Tomei, Kevin Durand, and M.C. Gainey
Running Time: 99 minutes
MPAA Rating: PG-13 for crude and sexual content, and some violence
Buzz Rating:
3 out of 10
The Good:
"With its clever premise and quartet of appealing comedic star turns, Wild Hogs is a step above the typical comedies rolling off the assembly lines of the major studios. "
Frank Scheck, The Hollywood Reporter
The Bad:
"Jokes dying on the lips of these easy riders are hard to stomach. "
Peter Travers, Rolling Stone
"While each actor is talented in his own right, the on-screen friends' relationship is barely developed."
Laine Ewen, Premiere
"The gags are witless and surprisingly gross. The four actors, each accustomed to being at the center, never develop any rhythm, any chemistry, any anything."
Stephen Hunter, Washington Post