The Buzz: Zodiac Is Absorbing, But Long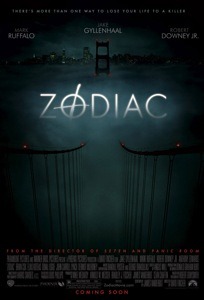 Zodiac
Director: David Fincher (Fight Club, Se7en)Starring: Jake Gyllenhaal, Mark Ruffalo, Anthony Edwards, Robert Downey Jr., Brian Cox, John Carroll Lynch, Chloë Sevigny, and Ed SetrakianRunning Time: 156 minutesMPAA Rating: R for some strong killings, language, drug material and brief sexual imagesBuzz Rating:
8/10
The Good:
"Zodiac may be the perfect meeting of filmmaker and subject ­– an obsessive's portrait of obsession that is, finally, a monument to irresolution."
Scott Foundas, LA Weekly
"Firing on all cylinders as a creepy thriller, police procedural and "All the President's Men"-style investigative newsroom drama, the smart, extremely vivid production oozes period authenticity."
Michael Rechtshaffen, The Hollywood Reporter
"An absorbing and fulfilling experience — even though it ends with a question mark."
William Arnold , Seattle Post-Intelligencer
The Bad:
"That's exactly the problem with this movie: It's not about a killer, or his victims, or the manhunt or the cops. They're all in it, of course, more or less. But it's about a writer."
Stephen Hunter, Washington Post
"At 2 1/2 hours, the film is too long in the telling and too short on suspense."
Marjorie Baumgarten, Austin Chronicle
"Without a persuasive ending, Zodiac is an exercise in frustration if not futility."
Jack Mathews, New York Daily News