Editors Blog: Oscar Notes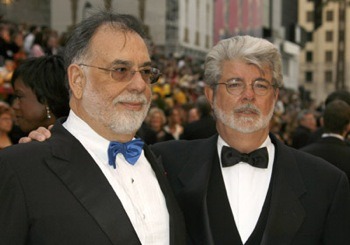 Random Notes from the Editor:
Errol Morris' short film which opened the Academy Awards show was fantastic. If you didn't see it, you can check out the video at Oscar.com.
Ellen DeGeneres is not funny (with exception of the Jennifer Hudson/Al Gore joke, but I have a feeling someone probably wrote that for her).
"If their weren't blacks, jews, and gays – there would be no oscars!" – so true.
Abigail Breslin is such a cute little girl. It looks like she's really enjoying the whole experience. Let's hope that she doesn't go the way of most young childhood stars. Because, remember, Drew Barrymore was a cute little girl once.
I know most of America probably doesn't care, but why don't they air the technical awards on like IFC or the Sundance Channel. Hardcore film geeks would probably watch. May-be I'm wrong. I'm probably wrong.
Tenacious D: Why don't they replace Kyle Gass with Will Ferrell?
The sound effects choir thing was neat, but do they really need to cut off the speeches for this? They make us sit thorough these interpretive dance sequences but have the nerve to cut off Jennifer Hudson, William Monahan and Guillermo Navarro?!
Al Gore has gained some weight. I'm glad they decided to make a joke out of the monkey in the room (Gore's big announcement).
Bad Hair Day: A bald Jack Nicholson? Cameron Diaz needs desperately to dye her hair blond. Tom Hanks looks better without his Da Vinci hair-dew.
Why did Happy Feet win? Because of the liberal environmental message attached, not because it was the best movie. And that's coming from an environmentally friendly liberal.
The best screenplay and best costume presentations were spot on.
The Departed screenwriter William Monahan breaths very loudly when he's nervous.
Need to buy Apple iPhone.
OSCAR ERROR: They claimed that The Departed was based on a Japanese film, but they were wrong. It's actually based off a Chinese Film.
I would write about how Guillermo del Toro was robbed for Best Foreign Language Film of the Year, but that would just be stating the obvious.
Clint Eastwood should have worn his glasses.
JC Penny's advertisement which recreates famous scenes from cinema's past was amoung my favorite of the show.
George Lucas, Francis Ford Coppola, and Steven Spielberg presenting Martin Scorsese with the Best Director is the way to do it. Talk about surreal. And Jack Nicholson waiting in the wing to congratulate him? Marty couldn't have scripted it any better.
Peter Sciretta,
/Film Editor in Chief