Contest: Rivers End On DVD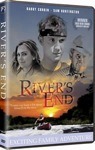 Rivers End hit DVD store shelves on February 20th, and we have a copy for two lucky /Film readers. All you need to enter is to e-mail us with the reason why you should win. On March 2nd we will e-mail the winners with the best answers. More information on the release can be found after the jump.
Clay Watkins (Sam Huntington, "Fanboys," "Superman Returns"), an angry teenager haunted by the death of his father, has moved to the small town where his grandfather, Buster Watkins (Barry Corbin, "Northern Exposure"), is sheriff. Angry and struggling, Clay just can't seem to stay out of trouble. Buster sets up a roadblock on Clay's collision course with the law by presenting him with a choice: successfully navigate by canoe a 60-mile stretch of the rugged and perilous Pecos River or go to jail.
Through the hardship, danger and stark beauty of life on the river, Clay confronts the fear and grief at the root of his anger and learns a few things about being a good man.
The cast also includes Caroline Goodall ("Schindler's List") as widow Sarah Watkins, Clay's distraught mother; Charles Durning ("The Sting," "The Best Little Whorehouse in Texas"); and Clint Howard ("Cinderella Man," "My Dog Skip").