Contest: The Prestige On DVD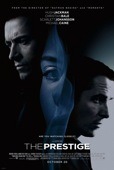 The Prestige 
hit DVD store shelves on February 20th, and we have a copy for one lucky /Film reader. All you need to enter is to e-mail us with the reason why you should win. On February 28th we will e-mail the winner with the best answer. More information on the release can be found after the jump.
Touchstone Home Entertainment announces the DVD debut of the Academy Award® Nominated (Achievement in Art Direction and Achievement in Cinematography), electrifying thriller, The Prestige—on DVD February 20.  From acclaimed director Christopher Nolan (Memento, Batman Begins, Insomnia) and starring a powerhouse cast including Golden Globe® Nominee Hugh Jackman (Kate and Leopold), Christian Bale (Batman Begins, American Psycho), four-time Golden Globe® Nominee Scarlett Johansson (Lost in Translation, Match Point, A Love Song for Bobby Long, Girl with a Pearl Earring) and the legendary two-time Academy Award® Winner Michael Caine (Best Supporting Actor for The Cider House Rules and Hannah and Her Sisters), The Prestige is the mysterious story of two magicians in Victorian-era London whose intense rivalry leads them on a life-long battle for supremacy filled with obsession, deceit and jealousy with astonishing twists and deadly consequences.
Loaded with stunning bonus features, this riveting DVD begs audiences to "watch very closely."  Bonus features include the insightful The Director's Notebook: The Cinematic Sleight of Hand of Christopher Nolan, a multi-part behind-the scenes look at all aspects of the creation of the film, and The Art of the Prestige interactive gallery.