Contest: A Guide To Recognizing Your Saints On DVD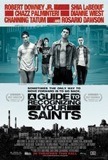 A Guide To Recognizing Your Saints
hit DVD store shelves today (February 20th), and we have a copy for two lucky /Film readers. All you need to enter is to e-mail us with the reason why you should win. On February 28th we will e-mail the winners with the best answers. More information on the release can be found after the jump.
Winner: Dramatic Directing Award  & Special Jury Award for Best Ensemble Performance, 2006 Sundance Film Festival
Synopsis:
The movie is a coming-of-age drama about a boy growing up in Astoria, N.Y., during the 1980s. As his friends end up dead, on drugs or in prison, he comes to believe he has been saved from their fate by various so-called saints.
DVD Features:
* 5.1 Dolby Digital Surround
* Director's Commentary With Dito Montiel
* Alternate Opening
* 4 Alternate Endings
* Deleted Scenes
* Rehearsal Scene, acted in and directed by Dito Montiel, shot at Sundance Lab
* Alternate Trailer
* Shooting Saints:  The Making of A Guide to Recognizing Your Saints (Featurette produced especially for the DVD )