Ray Liotta Arrested After Car Crash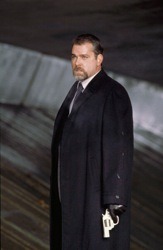 Goodfellas star Ray Liotta was arrested on Saturday for suspicion of driving under the influence.
Liotta's SUV hit two parked cars near his home in the Los Angeles, California "upscale coastal suburb" of Pacific Palisades. The actor was booked of a misdemeanor and posted bail.
Ray Liotta recently starred in Smokin' Aces, which was released in mid-January. He can be seen in Touchstone Pictures' Wild Hogs out next month.