Aaron Eckhart Cast In The Dark Knight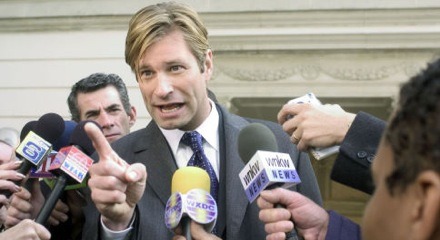 Thank You For Smoking star Aaron Eckhart is in final negotiations to play Harvey Dent in The Dark Knight, Chris Nolan's sequel to Batman Begins.
Ryan Phillippe was previously rumored to be in talks to play young Harvey Dent, Gotham's District Attorney who later becomes the villainous Two-Face. Tommy Lee Jones played the character in 1995's horrendous Batman Forever.
The sequel will follow Batman as he enlists the aid of Gordon and Dent in "bringing down the Joker... but not killing him. In the third movie, the Joker would go on trial, scarring Dent in the process," screenwriter David Goyer previously revealed.
Christian Bale, Morgan Freeman, Michael Caine and Gary Oldman have previously signed on to return. Heath Ledger signed on last summer to play the Joker.
Eckhart's a great choice for Dent. Nolan's casting thus far has been spot-on (okay, may-be Katie Holmes was unneeded, and Ledger's Joker is a "wait and see")
The Dark Knight is set to hit theaters on July 18th 2008.