Air Guitar Nation Movie Trailer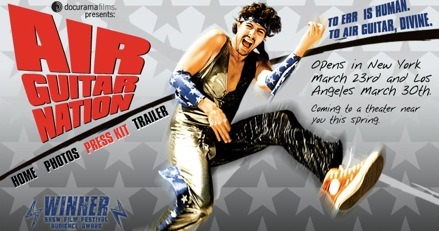 Did you know: There is a world championship event for playing the air guitar? Well someone decided to film a documentary around it. I first heard about Air Guitar Nation at last year's Tribeca Film Festival, but was unable to see a screening. And judging by the trailer, I missed one funny doc. Check out the trailer after the jump.
[youtube]ea32R_2jSxg[/youtube]
This could be Spellbound for morons. I really want to check this film out.
The movie opens in New York on March 23rd, and Los Angeles on March 30th. Hopefully coming to a theater near me this spring.
Here's the official synopsis:
A battle of naked ambition played out on the national and, ultimately, world stage, the documentary AIR GUITAR NATION chronicles the birth of the US Air Guitar Championships as legions of aspiring rock stars live out their dreams on a quest to become the world champion in a strange world where musical ability plays second fiddle to virtual virtuosity. As the film un-reels, two aspiring rock legends strum and strut their way towards glory and the coveted national title. C. Diddy (David Jung), a samurai warrior clad in a �Hello Kitty� breast plate and red kimono, emerges as an early favorite. But his arch nemesis from the Lower East Side, Bj�rn T�roque (Dan Crane), is not far behind. While C. Diddy threatens to unleash his self-professed �Asian Fury� on his competitors, Bj�rn vows to take Diddy down. As the film reaches its climax, the future of Air hangs in the balance; will Bj�rn�s technical prowess, stage presence, and airness�� be enough to take him to the top, or will C. Diddy conquer all to become America�s first supreme being of Air -Guitar?
[Via: The Movie Blog]