Bridge To Terabithia Movie Review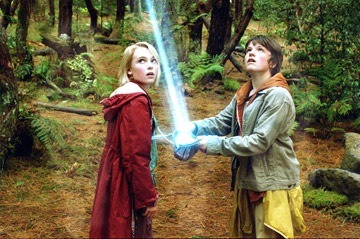 Based on the Newbery Medal winning book by Katherine Paterson, Bridge to Terabithia is Walden Media's big screen retelling of the children's classic.

Starring: AnnaSophia Robb, Josh Hutcherson, Zooey Deschanel, Lauren Clinton, Bailee MadisonDirected by: Carter B. SmithRelease Date: February 16th, 2007Genres: Action/Adventure, Drama, Science Fiction/Fantasy and AdaptationRunning Time: 95 minutesMPAA Rating: PG for thematic elements including bullying, some peril and mild language.Distributors: Disney
Jess Aarons (Josh Hutcherson) finds a new friend in the hippie punk-girl next door Leslie (AnnaSophia Robb), in a world where seemingly everyone at school is a mean spirited bully. When reality isn't delivering, the two children create a fantasy land called Teribithia, deep in their backyard forrest.
Zooey Deschanel seems taylor made for the part of Ms. Edmonds, the music teacher who comes into Jess' life and inspires. It brings back memories of that unconventional teacher who has no doubt stepped into all our childhood education, and greatly influenced our dreams. I'm sure we all have one of those teachers.
Annasophia Robb has a magical smile, and delivers a promising enthusiastic performance. You can see that this girl has a future. Bailee Madison is naturally innocent as Jess' little sister Hannah.
Unlike Pan's Labyrinth, the fantasy sequences are unimaginative, derivative, and lacking. They serve as more of a distraction than a magical interlude. Some of the special effects are unbelievably bad, including one chase scene where the kids are clearly running on a treadmill in front of a green screen. The film is false advertised for the almost non-existant fantasy elements. The dialogue is also painfully stiff.
Stereotypically, Bridge has been infused with a a story-line influenced by it's religious right owners, the Anschutz Film Group. In one sequence Jess drags Leslie to church and they have a conversation about how God will or won't damn you to hell if you don't or do believe in him. Of course this conversation comes back later in the film, but to what purpose?
The ending offers a twist that may be too much for smaller children. It seems thrown in for almost no reason. I still wonder what it's supposed to mean? What is the point? What are they trying to say? It seems like a mushed mess of messages that don't add up to much other than may-be the evil ogre isn't bad after all?
May-be the film's true message lies in the idea that we may have lost the magic of imagination in a world filled with movies, television and the internet? If so, they probably should have left the book alone.
/Film Rating: 5.5 out of 10