Contest: Infernal Affairs Trilogy On DVD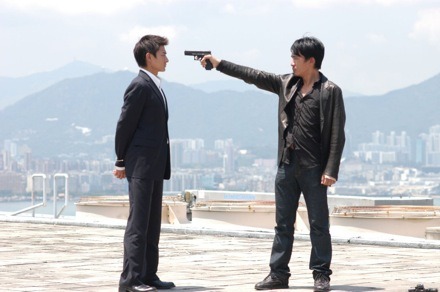 Infernal Affairs hits DVD store shelves today (February 13th), and we have a copy of Infernal Affairs 2 and 3 for three lucky /Film readers. We also have one copy of the Infernal Affairs box set to give-away. All you need to enter is to e-mail us with the reason why you should get this DVD. On February 20th we will e-mail the winners with the best answers. More information on the releases can be found after the jump.Infernal Affairs 2
MSRP: $24.95
Street Date: February 13, 2007
MPAA Rating: Not Rated
Languages: Cantonese 5.1, English Stereo
Subtitles: English and Spanish
Run Time: 119 minutes
Synopsis:
In this prequel to Infernal Affairs, Chen Ying Yan has just become an undercover cop in the triads while Lau Kin Ming starts his life as a triads mole in the police force. This installment in the trilogy chronicles their rise as moles in their respective worlds as they struggle with conflicting loyalties.
Infernal Affairs 3
MSRP: $24.95
Street Date: February 13, 2007
MPAA Rating: Not Rated
Languages: Cantonese 5.1, English Stereo
Subtitles: English and Spanish
Run Time: 118 Minutes
Synopsis:
Beginning ten months after the climatic murder of Yan (Leung) at the end of Infernal Affairs, Ming (Lau) finds himself relegated to a desk job as he begins to suspect that a new officer might be another mole. At the same time, Yan is seen in flashbacks as his life of crime escalates and he is assigned to kill his new partner. Moving between events prior to and after Infernal Affairs, Infernal Affairs 3 covers the relationship between the central characters and the gradual loss of Ming's sanity as his personality begins to blur into that of the now long dead Yan.