Bee Movie Trailer #2 Revealed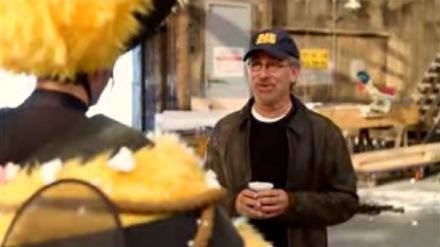 Yes, that's Steven Spielberg talking to Jerry Seinfeld dressed in a Bee suit.
Last year the first teaser trailer was released for Jerry Seinfeld's computer animated film The Bee Movie. Many people were angry that the teaser was false advertising, as it was done in live action. A second trailer has finally been released, and it also contains live action footage, but cleverly transitions into the actual computer animation. See that after the jump.
First up is the old teaser trailer with Bees on a car windshield.
[youtube]zd2lyGVBRgk[/youtube]
And now for the video you've been looking for, The Bee Movie Trailer 2 starring Jerry Seinfeld and Steven Spielberg. Yes, you read that right – the great director himself makes a well done cameo. Check it out below.
[youtube]dylz8ErjOhc[/youtube]
I'm actually interested in seeing this movie now. Dreamworks Animation has had a pretty bad track record. And I'm not talking hit's, I'm talking good movies. But I really Really enjoyed Over The Hedge.
This new trailer made it's debut in front of Music and Lyrics on February 14th 2007. The voice cast for the project includes: Jerry Seinfeld, Renee Zellweger, Matthew Briderick, John Goodman, Chris Rock, Rip Torn, Eddie Izzard, Alan Arkin, Oprah Winfrey, Kathy Bates, Larry King, Larry Miller, Barry Levinson, Colin Quinn and more. Bee Movie hits theaters on November 2, 2007.