Contest: Coastlines And Heading South On DVD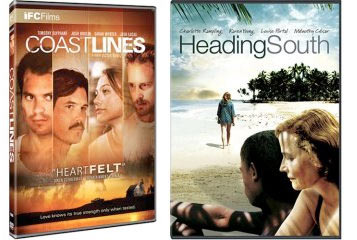 Coastlines and Heading South hit DVD store shelves on February 6th, and we have copies of these DVDs for two lucky /Film reader. All you need to enter is to e-mail us with the reason why you should get this DVD. On February 18th we will e-mail the winners with the best answers. More information on the releases can be found after the jump.
Coastlines
"Nunez is one of America's finest regional independent filmmakers, a major figure."
– Chicago Tribune
Directed by: Victor Nunez
Run Time: 110 minutes
Rated: R
Synopsis: Sonny Mann (Timothy Olyphant), an ex-con returning home from prison, creates a new dynamic for both friends and enemies with his arrival. His former crew tries to coerce him back, but he is reluctant. Complicating things more, Sonny's long suppressed desire for Ann, now married to his best friend, puts his loved ones at risk. Passion and revenge threaten to overtake those close to Sonny as his anger careens dangerously out of control, leading to an explosive confrontation, and surprising resolution.
Heading South
"Heading South shows the ache of blinding lust in a sexual paradise lost."
– The New York Times
Directed by: Laurent Cantent
Run Time: 105 minutes
Rated: Not Rated
Synopsis: Three middle-aged women on holiday converge at a Haitian resort to soak up the sun and sample the handsome young islanders' sexual talents in this well-crafted film set in 1978. Disillusioned with – and unsatisfied by – the men at home, Wellesley professor Ellen played by Charlotte Rampling (Basic Instinct 2, Immortal), willowy divorcee Brenda (Karen Young) and spirited Canadian Sue (Louise Portal) soon find themselves competing for the virile Legba (Menothy Cesar) in this provocative paradise.