Ghost Rider 2 Announced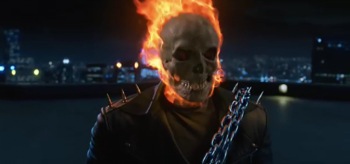 The NY Post caused havoc earlier this week, claiming that Sony would not be holding early press screenings for Ghost Rider. No press screenings usually means that the studio lacks confidence in the finished film. Sony slamed back claiming the film will get screened to critics nationwide, late Thursday night. But that doesn't give critics much time to spread the good (or bad) word about the film, does it? I haven't seen the flick yet, but my people tell me it's not good.
So it came as a huge surprise that producer Avi Arad announced development on a sequel. Is this for REEL, or is it a deflective PR move?
Arad revealed the news at a press-event for the film on Friday. The Marvel producer seemed confident that Nicolas Cage would return as Johnny Blaze. Director Mark Steven Johnson stood by his side during the announcement, so one must assume that he would be brought back as well.
Production on Ghost Rider was pushed back to make way for better computer animation technology. Now that the technology for the FX is in place, Ghost Rider 2 could be streamlined for a 2009 release (our estimate). But for some reason I think this sequel announcement is to combat the bad press from the NY Post blog post. It creates hype, gives people the false sense that the film is so great that a sequel is already in development. But if the film flops, I'm sure the project will fall into development hell. So from my viewpoint, it's more of a premptive PR announcement.
Ghost Rider hits theaters on February 16th 2007.