Bill Maher Teams Up With Larry Charles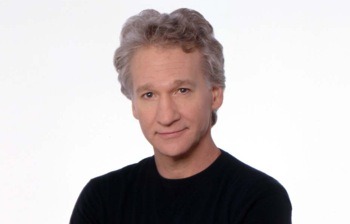 Several Months ago it was announced that Bill Maher would be making a documentary on religion titled A Spiritual Journey. It was since announced that Seinfeld writer/Borat director Larry Charles would be directing the doc. The first details have emerged from this year's Berlin Film Festival and its adjoining European Film Market, and I can't wait to see this one.
Variety reports in their Fest Central Blog:
Charles and Maher have already been shooting for some time below the radar in the Mid-East and London, but footage is being kept tightly under wraps. Pic is being hyped as "Borat" meets "Fahrenheit 9/11," but the only materials that buyers are allowed to see is a single sheet written by Charles, which isn't permitted to leave the First Look office. "Is religion an obsessive-compulsive disorder?" asks Charles, who bills his movie as "Bill Maher vs. the Anti-Christ (or is Bill Maher the Anti-Christ?)"
When it was first announced, the documentary was described as "examining the presence of religion in many of the big news stories of recent years, from Muslim riots over cartoons to the Ten Commandments in front of courthouses, a born-again Christian in the White House and Scientology in the birthing room."
Maher is notoriously not a man of faith. Maher routinely refers to religion as a "neurological disorder." But many people have incorrectly credited Maher as an Atheist.
"I'm not an atheist. There's a really big difference between an atheist and someone who just doesn't believe in religion. Religion to me is a bureaucracy between man and God that I don't need. But I'm not an atheist, no." I believe there's some force. If you want to call it God... I don't believe God is a single parent who writes books. I think that the people who think God wrote a book called The Bible are just childish. Religion is so childish. What they're fighting about in the Middle East, it's so childish. These myths, these silly little stories that they believe in fundamentally, that they take over this little space in Jerusalem where one guy flew up to heaven—no, no, this guy performed a sacrifice here a thousand million years ago. It's like, "Who cares? What does that have to do with spirituality, where you're really trying to get, as a human being and as a soul moving in the universe?" But I do believe in a God, yes."