New Firefly Movie Announced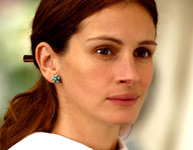 Sorry Joss Whedon fanboys, I'm not talking about THAT Firefly.
I'm talking about a new ensemble drama starring Julia Roberts and Carrie-Anne Moss.
Written are directed by Academy Award Winner Dennis Lee (for his student short film Jesus Henry Christ), Fireflies in the Garden is loosely based on Lee's life and "explores the complexities of love and commitment in a family torn apart when faced with an unexpected tragedy." Sounds about right for a Julia Roberts chick flick. SNORE.
Emily Watson and Ryan Reynolds are in negotiations to join the cast. And shooting is scheduled to begin in March in Austin, Texas. But don't they know that all the area filmmakers will be tied up at SXSW? Someone needs to alert the producer.