Toy Story 3 Announced For 2009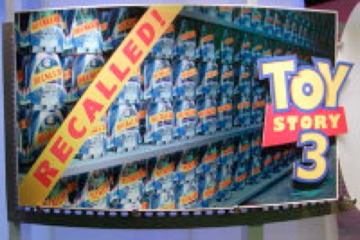 Good news and bad news.
The Good News: Disney has announced that Pixar will release Toy Story 3 in 2009. And the Oscar nominated screenwriter behind Little Miss Sunshine is hard at work on the story.
The Bad News: Toy Story and Pixar mastermind and all-around animation god John Lasseter won't be directing.
Lasseter and Disney Animation president Ed Catmull revealed the news at Thursday's investor conference.
Lee Unkrich, who has been co-director on Toy Story 2, Monsters Inc, and Finding Nemo, will step up to helm the third film in the series. Lasseter is probably too busy in his new post as chief creative officer of Disney Animation to work on the latest effort.
Michael Arndt, the Academy Award nominated scribe of Little Miss Sunshine, is working on the screenplay.
"The greatest thing about the merger of the two companies is that the creators of 'Toy Story' 1 and 2 can make 3 with the story that we wanted," said Lasseter.
The comment was a stab at Disney, who before the Pixar merger were hard at work on a third Toy Story film without Pixar's involvement. Disney's plot idea involved a recall of Buzz Lightyear toys, which includes Andy's doll, which results in the Toys going on an adventure to Taiwan to rescue Buzz, who has been malfunctioning. John Lasseter and company were very unhappy with the idea, and didn't approve. (Note: The picture above is production art from this failed sequel attempt)
It was also announced that longtime Disney story artist Chris Williams is now directing the 2008 release American Dog, after Lilo & Stitch helmer Chris Sanders left the project.
Another Toy Story flick? I can't wait to see what Pixar has up their sleeves, because even the Disney story-line didn't sound half bad. They certainly have a huge legacy to follow (Toy Story 2 is still the best film ever reviewed according to Rotten Tomatoes).