Ghost Rider Super Bowl TV Advertisement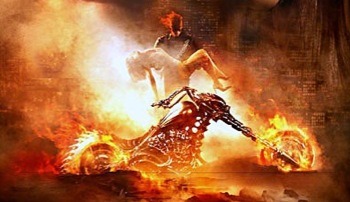 More Super Bowl advertisements have hit the web, including Ghost Rider.
Directed by Mark Steven Johnson, Ghost Rider stars Nicolas Cage, Eva Mendes, Wes Bentley, Sam Elliott, Donal Logue and Peter Fonda. Based on the Marvel comic book,comes the story of a superstar motorcycle stunt rider named Johnny Blaze, who makes a deal with the devil to protect the ones he loved most: his father and his childhood sweetheart, Roxanne. But when the devil comes for his due, Johnny is transformed into Ghost Rider, a bounty hunter of rogue demons. "Forced to do the devil's bidding, Johnny is determined to confront his fate and use his curse and powers to defend the innocent."Ghost Rider hits theaters on February 16th 2007.