Bart Simpson Was In The Twilight Zone Movie (Sort Of)
Fox
"The Simpsons" is a pop cultural institution. The yellow-skinned family was introduced to television viewers via a series of animated shorts on "The Tracey Ullman Show," and scored a ratings success with their debut episode "Simpsons Roasting on an Open Fire" on December 17, 1989. Before long, Bart Simpson became a troublemaking icon, burning up the Billboard Hot 100 with the novelty rap song "Do the Bartman" (written by an uncredited Michael Jackson, who loved the show), and appearing on knock-off t-shirts as everything from a U.S. Army soldier to a spliff-toting Rastafarian.
When the initial sensation faded, and the series' ratings came down to earth (after Fox stupidly moved it to Thursdays at 8 p.m. to challenge "The Cosby Show"), there was a sense that "The Simpsons" was not long for this world. But the show's viewership stabilized, and, most importantly, the writing got sharper. A massively talented group of scribes turned the series into a must-watch satire loaded with if-you-know-you-know references to films, books, and other pop cultural ephemera. Basically, "The Simpsons" got really geeky. I was watching the show in a dormitory common room during the epic fourth and fifth seasons, and sometimes I'd be one of two or three people howling at an obscure "Planet of the Apes" reference.
For several seasons, "The Simpsons" belonged to nerds. It was a glorious time. During this period, the show was especially fond of dropping references to Rod Serling's "The Twilight Zone." And this was doubly appropriate because the voice of Bart Simpson had been to the Twilight Zone a decade prior.
Nancy Cartwright gets animated (and dead)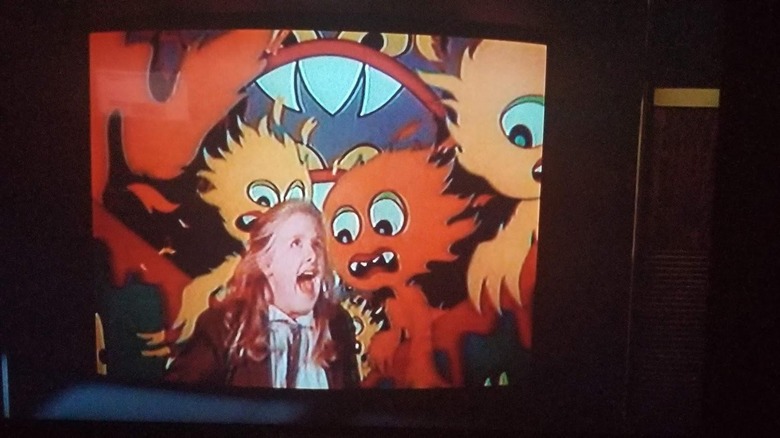 Warner Bros
1983's "The Twilight Zone" movie is a difficult watch. I've never felt great about the movie getting completed and released after John Landis negligently caused the death of veteran actor Vic Morrow and child actors Myca Dinh Le and Renee Shin-Yi Chen. And this stinks because the last two segments in the movie, "It's a Good Life" and "Nightmare at 20,000 Feet," are terrific.
The great Joe Dante directed "It's a Good Life," a remake of the 1961 episode about a brat who wields god-like powers to keep his family in check. He rules the roost, demands dinners comprised of candy and peanut-butter-coated hamburgers, and, if his authority is challenged, subjects his relatives to grotesque punishment. When the boy's sister attempts to alert a visitor to his wicked ways, he thrusts her into a televised cartoon. The actor cast as his sister is none other than Nancy "Bart Simpson" Cartwright, and, as a flesh-and-blood character, she does not fare well in these cartoon environs (she gets gobbled up by a dragon).
Fortunately, Cartwright got another crack at "It's a Good Life" with "Bart's Nightmare" in 1991's "Treehouse of Terror II," where Bart turns Homer into a jack-in-the-box. You had to be a true nerd to link Cartwright's appearance in Dante's "It's a Good Life" to her work as Bart Simpson, but this deep-tissue nerdiness is and continues to be one of the perks of being a fan of the show.