The Mandalorian Season 3 Episode 4 Protects Some Monstrous Babies, And We Love That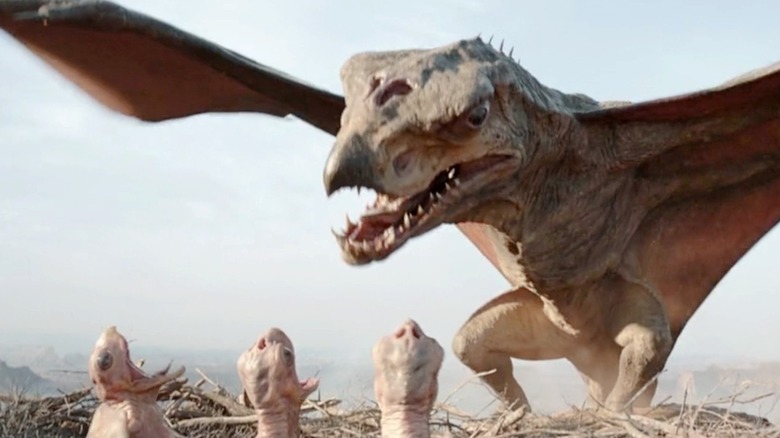 Lucasfilm
The following article contains spoilers for "The Mandalorian" season 3, episode 4.
The "Star Wars" franchise has a whole lot of orphans. Like so many of Disney's main characters, a lot of characters in the galaxy far, far away are without parents. Luke Skywalker, Leia Organa (orphaned twice, actually), Boba Fett, Din Djarin, Grogu, Anakin Skywalker, Ezra Bridger, Bo-Katan Kryze, Han Solo, and Rey (painful swallow) Skywalker, all lost their main caregivers. However, many of them have created a found family that provides comfort and someone (sometimes a whole group) to raise them and share their lives. 
In the Mandalorian culture, orphans are called foundlings, and it's tradition to raise them, train them, and teach them the ways of the far-flung group. Most of the Mandalorian people these days are human, but the Taung (the recent mention of Taungsday as a day of the week referenced them "The Mandalorian" season 3, episode 3) were Mandalorians, and so is little Grogu, the adorable almost-Jedi who comes from an as-yet unnamed species. 
What we learned in season 3, episode 4, entitled "The Foundling," is that the foundlings don't even have to be humanoid to be taken care of. If you're a youngling and you're alone, you can probably find a place in a Mandalorian covert. The recently introduced flying raptor babies have joined the Armorer's (Emily Swallow) covert, and I couldn't be happier. 
Foundlings for the win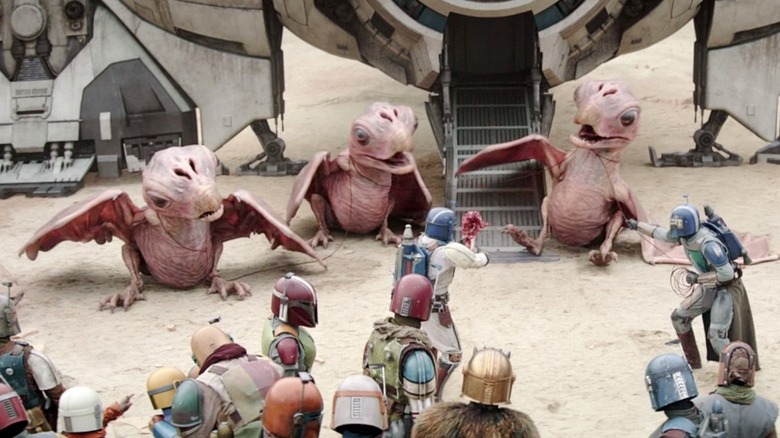 Lucasfilm
You must admire a culture that refuses to let orphaned children fend for themselves as part of their creed. Whatever you think of the forever-doomed-to-snack-alone rules of the Children of the Watch, this is a Mandalorian-wide tradition. Warriors who earn beskar (hard to come by these days) traditionally donate a small part of it for the future of any foundlings, as we see when the Armorer makes a mudhorn-embossed rondel for little Grogu to commemorate his first battle. Later in the episode, despite the fact that the Mandlorians had to kill the raptor mother in order to rescue their own foundling, the little raptor babies are brought back to the covert for care. 
They're incredibly weird little cutie-pies, and I do wonder how they're going to get enough beskar to put helmets on them. Oh, and do their pauldrons get embossed Mando helmets since that was what they've been eating? Maybe the Mandalorians will ride on them like the mythosaurs of old (and new, maybe)? Still, the Armorer barely pauses before clearly accepting them. 
How will they make bird helmets that big, though?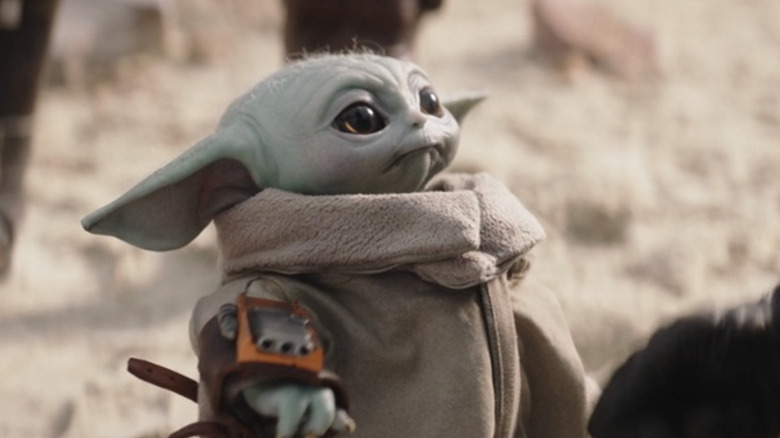 Lucasfilm
Maybe those helmets are hiding the "I'm dead of cute" face the Mandalorians are making. It could be just the tradition of it all, but in my headcanon, when Grogu coos, the Armorer is smiling under there like she saw a puppy playing with a baby tiger on TikTok. 
There are two things I love about this. First, it stands as a balance to some of the more difficult-to-accept aspects of the culture of the Children of the Watch. I'm speaking as an audience member here, not sitting in judgment. It's more about whether or not I could cover my face or the fact that my brain makes me think about what is happening to their skin under there with no oxygen and lots of sweat. The acceptance of kids with no one to protect them is a generous and lovely thing that softens the idea that they banish those who break rules, like letting those you care for see your face. 
Second, I'm one of those viewers who cannot bear to see little creatures left to fend for themselves or harmed. I have been known to turn away from a show or film when the camera focuses on a cute animal because I know my heart is about to be broken. I'll watch battles where adult humanoids die all day but little creatures? Hard pass. 
Found or chosen family is a wonderful thing. Caring for those who are alone is too, even if they're bald little raptor babies. Still, maybe we don't cover Grogu's widdle face with a helmet? I'd hate to see him eating his chickie nuggies, soupy soup, and assorted snicky snacks all by himself.
"The Mandalorian" season 3 is currently streaming on Disney+ with new episodes arriving on Wednesdays.