Jurassic Park's Sam Neill Was Treated For Stage 3 Cancer, But Is In Remission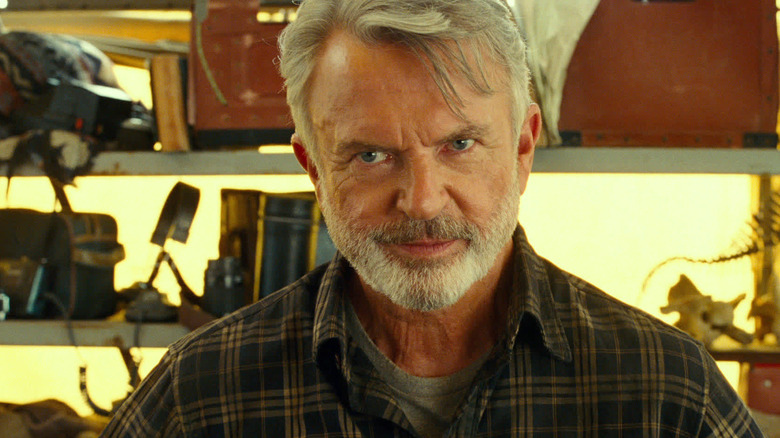 Universal Pictures
Sam Neill, star of movies such as "Jurassic Park" and "The Hunt for Red October," as well as all around multinational treasure, has revealed that he has been dealing with cancer. According to The Guardian, the 75-year-old actor disclosed this information in his upcoming memoir, "Did I Ever Tell You This?" The good news is that Neill is currently cancer free and is in remission.
Per the outlet, Neill underwent treatment for stage-three blood cancer after noticing that he had swollen glands while promoting "Jurassic World Dominion" last year. He received a diagnosis of angioimmunoblastic T-cell lymphoma and was treated with chemotherapy. That didn't totally do the trick and Neill is now taking a chemotherapy drug that he will receive monthly in perpetuity. But, most importantly, he is, at present, cancer free. The memoir, ultimately, started as a way for Neill to keep himself busy during a troubling time, although he didn't set out to write one. He explained:
"I never had any intention to write a book. But as I went on and kept writing, I realized it was actually sort of giving me a reason to live and I would go to bed thinking, 'I'll write about that tomorrow ... that will entertain me.' And so it was a lifesaver really, because I couldn't have gone through that with nothing to do, you know."
Just pleased to be alive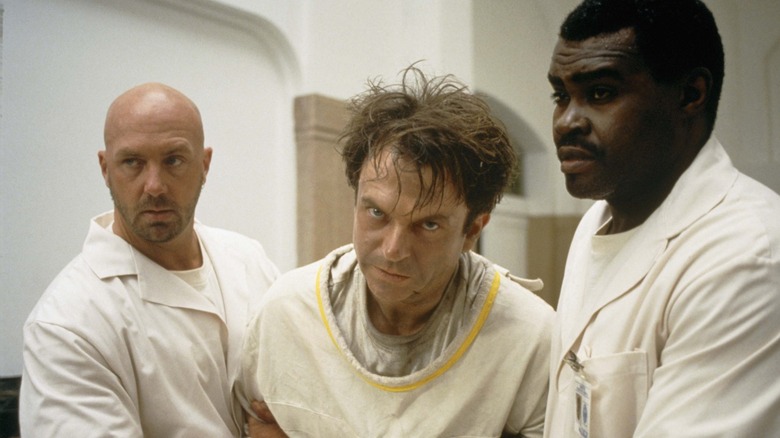 New Line Cinema
With a career that dates back to the early '70s, Sam Neill has had a major presence on screen in both movies and TV for the better part of 50 years. Audiences around the world know him as Alan Grant from the "Jurassic Park" films, but that is just the tip of the iceberg when it comes to his incredible career. Some of his pre-Alan Grant credits include "Dead Calm" and "Possession." He also starred in John Carpenter's cult classic "In the Mouth of Madness," the sci-fi favorite "Event Horizon," and the hit series "Peaky Blinders."
And that really is just scratching the surface, as Neill has more than 150 acting credits to his name. Well into his 70s, he has no desire to slow down, it seems — cancer be damned. Speaking further, Neill explained that there were rough moments over the last year, but it all helped to lend some perspective:
"I can't pretend that the last year hasn't had its dark moments. But those dark moments throw the light into sharp relief, you know, and have made me grateful for every day and immensely grateful for all my friends. Just pleased to be alive."
"Did I Ever Tell You This?" is set to hit shelves on March 21, 2023.