Paul McCartney's Favorite Saturday Night Live Memories Are Of Chris Farley & Martin Short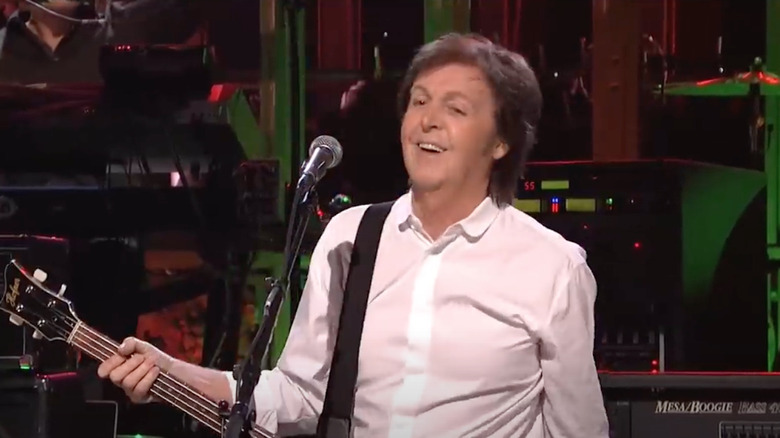 NBC
Paul McCartney has a special relationship with "Saturday Night Live." During the show's inaugural 1975-76 season, Lorne Michaels went on camera and made a direct appeal to The Beatles to reunite on his suddenly popular series. To sweeten the deal, he revealed that NBC had cut a certified check for $3,000, which the band could split any way they liked. "If you want to give Ringo less, that's up to you," quipped Michaels. "I'd rather not get involved."
This was, of course, a joke, but McCartney and his bandmate John Lennon had actually reconciled, and were, in fact, watching the episode live in the latter's Dakota apartment. They nearly hopped in a cab and went down to 30 Rockefeller Plaza, but, according to Lennon in 1980, they were "too tired" (those aren't scare quotes ... or maybe they are).
McCartney has appeared as a musical guest subsequent to this near late-night coup, and is usually game enough to act in a sketch or two. Though these skits tend to derive most of their laughs from the fact that it is Paul freakin' McCartney on stage, the musician's deadpan delivery is lethal perfection. He's clearly having a great time, but there are two sketches that remain very special to him.
The awkward, childlike wonder of 'The Chris Farley Show'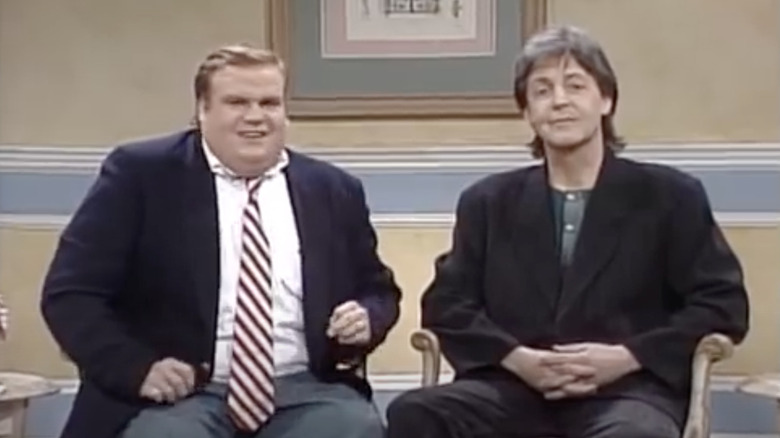 NBC
During an appearance on Dana Carvey and David Spade's "Fly on the Wall" podcast, the hosts found themselves nerding out to such an embarrassing degree that Spade finally said what we all were thinking. "Paul, every question we do sounds like 'The Chris Farley Show.'"
This is in reverence to the simple, yet gut-bustingly hilarious bit where Farley would appear as himself and ask a well-known celebrity the most gushing, star-struck questions ever. Paul McCartney dropped by for the third installment of the sketch, which also proved to be its last. Why? Because you couldn't top McCartney in terms of fame or performance as he answered inquiries like, "Do you remember when you were in The Beatles?"
McCartney was just about as tight-lipped in discussing the sketch with Carvey and Spade as he was with Farley, but he had nothing but fond memories of doing it. "That was so, so lovely," he said.
Spade recalled the rest of the cast watching the skit being "in a jealous rage" because Farley got the honor of working with the rock-and-roll legend. But Farley didn't crow about his good fortune. Per Spade:
"It was one of the highlights of his life he said right after. And it was so good. I like when he [quoted 'The End' from 'Abbey Road'], 'And in the end, the love you take...' And he said, 'Is that true?' And you go, 'Yeah, I'd like to think.' You played that so well, by the way, in the sketch."
Martin Short berating Paul McCartney is comedy gold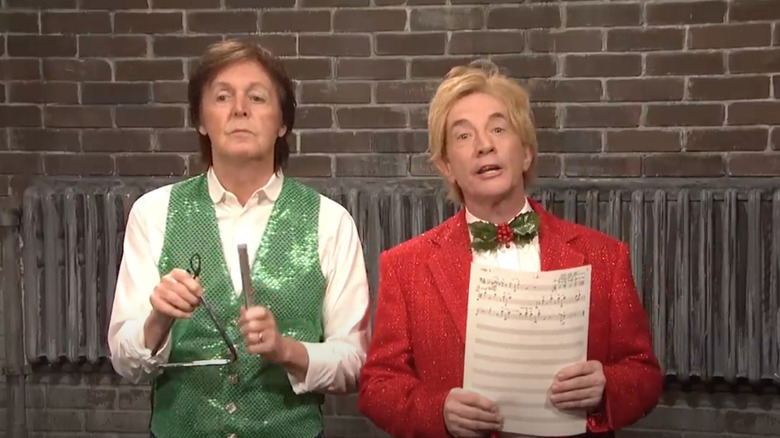 NBC
Paul McCartney then added he had another favorite appearance, which was opposite Martin Short as the musical duo Caleb and Monty, who are auditioning for a holiday pageant. The hook here is that Short is the singer, and Monty only plays the triangle. When McCartney meekly voices a desire to sing as well, Short tears into him.
Short's invective only gets more vicious and personal as the skit goes on, which Dana Carvey enjoyed. As he told McCartney, "[M]artin Short was trying to break you. I mean, he was so committed screaming at you that you can't sing. Screaming at Paul McCartney, quote unquote. It's hilarious."
Just as it looks like the sketch is going to end with Short quitting the duo in a fit of rage, McCartney asks if he can sing now. This being the year-end holiday episode, McCartney walks up to the bandstand and joins his group for a performance of "Wonderful Christmastime." It's a love-it-or-loathe-it song, but the build to the performance was so expertly executed that even those on the "loathe it" side get swept up in the moment.
That's the magic of Paul McCartney, arguably the most famous musician in the world. Here's hoping the still spry 80-year-old keeps coming back to "SNL" for as long as he is able.