Judy Blume Forever Trailer: Praising An Author Who Spoke Truth To Young People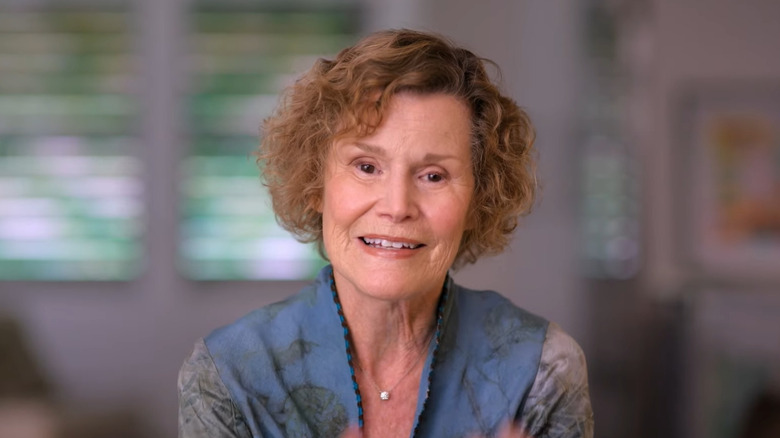 Prime Video
Judy Blume is a national treasure. She's the award-winning author of 25 novels, including "Are You There God? It's Me, Margaret" (1970), "Tales of a Fourth Grade Nothing" (1972), "Deenie" (1973), "Blubber" (1974), "Forever... " (1975), and "Starring Sally J. Freedman as Herself" (1977). Blume was the first widely-read author (certainly the first one I encountered as a kid) who spoke frankly about things like changing bodies, menstruation, masturbation, sex, and birth control. 
Today Prime Video has released a new trailer for "Judy Blume Forever," which interviews Blume about her history and speaks to people like Molly Ringwald, Lena Dunham, Anna Konkle, Samantha Bee, Jason Reynolds, and Justin Chanda about the influence this trailblazing author gifted us with. As a girl who grew up with these books as a sort of personal schoolhouse, I admit to tearing up as I watched even this brief look at the documentary. In a time when books are under attack in America and facing banning and censorship, this goes beyond nostalgia and gratefulness to Blume for her work. It's important to realize the incredibly positive impact that honest and accessible information can have on children of all genders. 
Watch the Judy Blume Forever trailer
I did warn you about tearing up. "Judy Blume Forever" (which is a play on the title of her 1975 book "Forever... ") is directed by Davina Pardo and Leah Wolchok. It's produced by Pardo, Wolchok, Sara Bernstein, Justin Wilkes, and Marcella Steingart. Here is the official synopsis for the film: 
Generations of readers have found themselves in a Judy Blume book. Her name alone launches a flood of memories for anyone who's gripped one of her many paperbacks. For decades, Blume's radical honesty has comforted and captivated readers — and landed her at the center of controversy for her frankness about puberty and sex. Now the beloved American author candidly shares her own coming-of-age story.

Produced by Imagine Documentaries and directed by Emmy-winning filmmakers Davina Pardo and Leah Wolchok, Judy Blume Forever traces Blume's journey from a fearful, imaginative child to storytelling pioneer who elevated the physical and emotional lives of kids and teens, to banned writer who continues to fight back against censorship today. Playful and poignant animations celebrate the magic and awkwardness of being young, while intimate conversations with acclaimed authors and artists reveal Blume's profound impact on readers. Long-standing fans share open-hearted letters they wrote to Blume over decades.
Those letters? Oof, I have a feeling they're going to slay me. In a good way, I mean. 
"Judy Blume Forever" will begin streaming on Prime Video on April 21, 2023.