Big George Foreman Trailer: The Legendary Boxer Gets The Biopic Treatment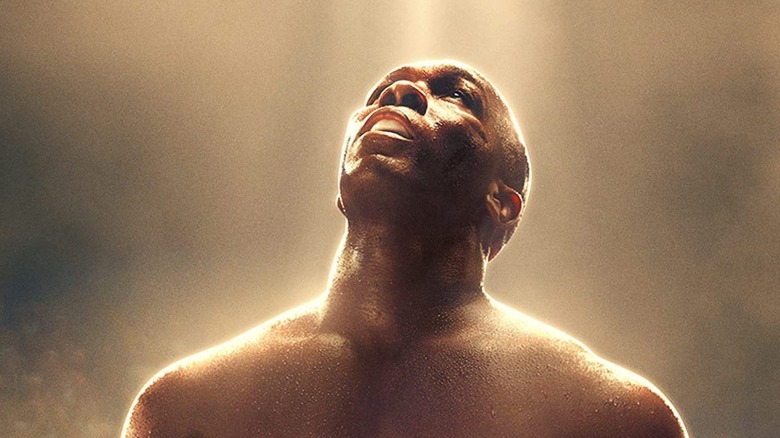 Sony Pictures
Boxing movies tend to be pretty great fodder for a harrowing feel-good story. Even people who don't give a damn about boxing otherwise would be hard-pressed not to cheer by the end of "Rocky" or "Cinderella Man." Sure, there is the occasional dark boxing tale, such as "Raging Bull," that makes for equally — if not more — compelling cinema. Today though brings us what appears to be an underdog story, and a familiar one for many fans of the sport, as the trailer for "Big George Foreman" is here. Or, to be more specific regarding the title, "Big George Foreman: The Miraculous Story of the Once and Future Heavyweight Champion of the World." And yes, they did put all of that on the poster.
In any case, this is the tale of George Foreman and, more specifically, his wildly unlikely comeback story as a boxer advanced in his years. Many people may not be familiar with his accomplishments as a fighter, though they may well know his name from the line of grills he sold for years (and yes, that is also addressed here). But this is a boxing movie, through and through. Let's see what Sony has cooked up, shall we?
Big George Foreman trailer, big comeback tale
The trailer looks very polished and glitzy in that big, studio movie sort of way. It all has a clean shine to it, which perhaps distracts from the grittiness of the sport of boxing in some way. Though it does suit the "come to Jesus" element of George Foreman's life that is clearly a big part of what is going on here. The big draw, however, is Khris Davis ("Atlanta"), who appears to be inhabiting Foreman pretty incredibly, for my money. As for the story at hand? The synopsis for the film reads as follows:
"Big George Foreman: The Miraculous Story of the Once and Future Heavyweight Champion of the World" is based on the remarkable true story of one of the greatest comebacks of all time and the transformational power of second chances. Fueled by an impoverished childhood, Foreman channeled his anger into becoming an Olympic Gold medalist and World Heavyweight Champion, followed by a near-death experience that took him from the boxing ring to the pulpit. But when he sees his community struggling spiritually and financially, Foreman returns to the ring and makes history by reclaiming his title, becoming the oldest and most improbable World Heavyweight Boxing Champion ever.
George Tillman Jr., the producer of films such as "The Hate U Give" and "Mudbound," is in the director's chair for this one. He's working from a screenplay that he wrote with Frank Baldwin ("Cold Pursuit"), with Foreman himself on board as an executive producer alongside Peter Guber, Wendy Williams, and Henry Holmes. Jasmine Mathews ("The Tomorrow War"), Sullivan Jones ("Harlem"), Lawrence Gilliard Jr. ("The Wire"), John Magaro ("First Cow"), Sonja Sohn ("High Flying Bird"), and Forest Whitaker ("Andor") co-star.
"Big George Foreman" is set to hit theaters on April 28, 2023.