The 13 Best Tom Kenny Roles That Aren't SpongeBob SquarePants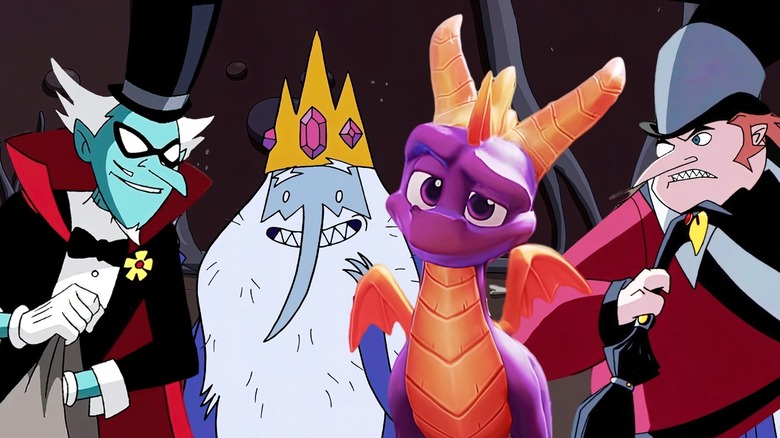 DC Entertainment, Activision Blizzard, Cartoon Network Studios, Warner Bros. Animation
Tom Kenny has been delighting children for decades as America's favorite undersea fry cook, SpongeBob SquarePants. It's an iconic character that has become a pop culture institution, but many fans may not know that Kenny himself is a beloved voice actor beyond his pineapple under the sea. The East Syracuse native has provided voices for well over 500 films, television shows, and video games; from major protagonists to wacky sidekicks to merely additional voices, Kenny has done it all.
Because his role as SpongeBob is so ubiquitous, animation enthusiasts can often spot his stylings from a mile away. Let's face it, there's just nobody who does a fun, nasally character voice like Kenny. However, the man has multitudes. He can be an authoritative narrator in one moment, then a goofy geezer in the next. He even has a few characters where his voice is near-unrecognizable, highlighting the lengths Kenny can go to make a character feel distinct.
Furthermore, most people don't even know that Kenny began his career not in voice acting, but in stand-up and sketch comedy; through his series regular roles on "The Edge" and "Mr. Show with Bob and David," Kenny would do plenty of live-action work with several legendary comedians. There are plenty of nooks and crannies to uncover in Tom Kenny's expansive career, sans sponges, so let's dive in.
The Ice King (Adventure Time)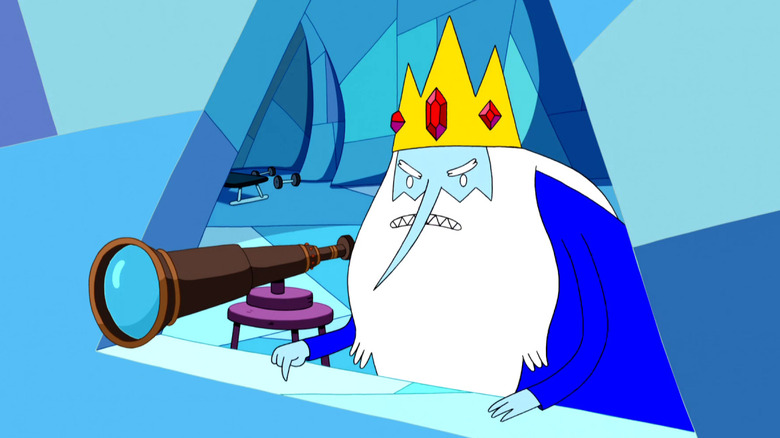 Cartoon Network Studios
SpongeBob may be Tom Kenny's most popular character, but his (arguably) second-most popular character is a far more complex beast. Initially, The Ice King seemed like just another bizarre, eccentric creation from the mind of "Adventure Time" creator Pendleton Ward — a looney ice wizard obsessed with capturing princesses. However, as the series progressed, he became one of the series' central characters and a deeply tragic figure, representative of the sheer longevity and popularity the series cultivated over ten seasons.
The Ice King begins the series as a tyrannical ruler whose plans are consistently thwarted by protagonists Finn and Jake. However, it isn't until Season 3 that we learn The Ice King was once Simon Petrikov, a professor of archaeology living a happy life alongside his fiancee, Betty. After donning an ancient crown that caused him to suffer from hallucinations, he began to descend into insanity, scaring Betty away. Sometime later, he discovered a young Marceline in a heap of wreckage and became her surrogate father, protecting her using the crown's supernatural powers. However, his disassociation grew deeper and deeper, forcing him to abandon Marceline so that he could protect her. Eventually, he fully transformed into the blue-skinned, long-nosed king of cool, and lost all memory of his life before royalty. It's easy to look at The Ice King as a solipsistic sociopath. However, he is actually just a deeply lonely individual whose deepest connections were stripped from him. After experiencing such difficult trauma, he has lost all understanding of what it takes to foster human connection, and Kenny's spontaneous vocal performance perfectly portrays this struggle with endearing pathos.
Heffer Wolfe (Rocko's Modern Life)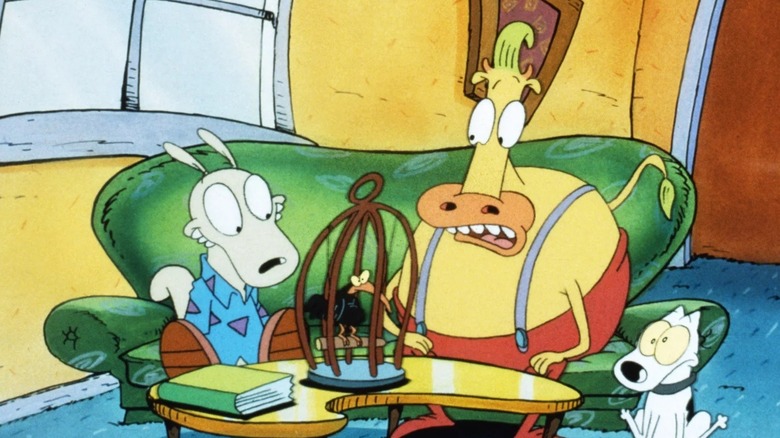 Nickelodeon Animation Studio
Not many voice actors can claim they were captivating from the start, but the origins of Kenny's trademark appeal can be traced back to the very beginning. "Rocko's Modern Life" may not have been the actor's first vocal credit, but Heffer was the first to execute his tried and true character formula: high-pitched, bumbling, sweet, and yellow, with a dash of inappropriate humor (Kenny has even addressed this pattern before). SpongeBob may be the gold standard, but Heffer was Kenny's breakout character, a lovable bovine who is best friends with the series' protagonist, Rocko. He always seizes an opportunity to help his neighbor, even if his attempts to do so often make things worse.
Heffer appears in many episodes, but "Who's For Dinner?" is where he, as well as the entire series, arguably shines the brightest. In the episode, Rocko is invited to a family dinner at Heffer's home, only to inadvertently reveal that Heffer was adopted. To Rocko, this is fairly obvious considering Heffer's entire family are wolves. However, Heffer is flabbergasted. His family explains that they originally planned on eating Heffer (they even fattened him up, hence his obesity), but later formed a bond and decided to raise him. These revelations send Heffer on a journey of self-discovery, where he later finds out that his father was a deadbeat dad and his mother was made into a car seat. These surprisingly dark jokes are made easier to swallow thanks to Stephen Hillenburg's signature madcap humor, but it's still surreal to see even a silly character like Heffer not be treated with kiddy gloves.
Plastic Man (multiple iterations)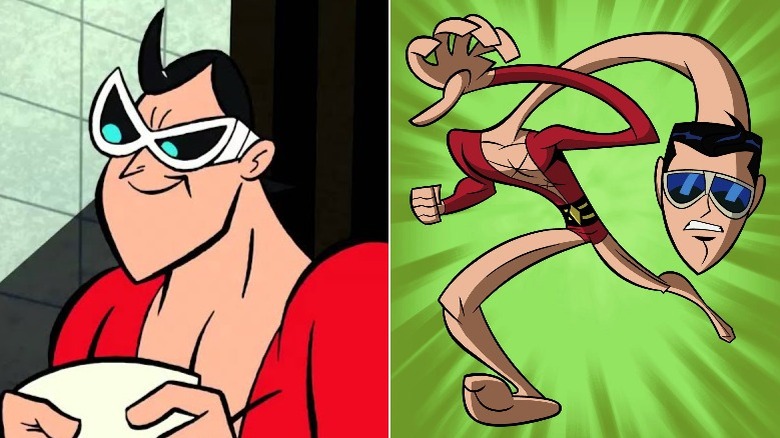 Warner Bros. Animation, DC Entertainment
When you become the go-to voice for a DC Comics character, you know you've made it: Kevin Conroy had Batman, George Newburn has Superman, and Tom Kenny has Plastic Man. He may not have as many credits compared to a seasoned veteran, but that's only because The Ductile Detective's B-lister reputation has kept him on the sidelines. In fact, it was Kenny's adoration for Jack Cole's creation that made him more of a recurring presence in the DC Animated Universe in the first place. Let's be honest, any person who picks the underappreciated Patrick "Eel" O'Brian as their "favorite superhero character of all time" (via Comics Continuum) deserves to be their definitive actor.
Alongside animator Andy Suriano, a fellow Plas obsessive who he crossed paths with at Cartoon Network, Kenny pitched a new Plastic Man series to the network with humor more in touch with the original comics. They produced and co-wrote a 10-minute pilot, "Puddle Trouble," which effectively revived The Long Arm of the Law for the 21st century. Combining "Looney Tunes" squash-and-stretch, a 1960's aesthetic, and strong voice acting, it proved to comic book fans everywhere that Kenny was a perfect vessel for the hero's signature brand of humor. Though Cartoon Network didn't pick it up to series, Kenny has gotten plenty of chances to return to the character through his guest appearances on "Batman: The Brave and The Bold," his series of "DC Nations" shorts, and the "LEGO DC Super Heroes" films and video games. Still, we think the series deserves to make a comeback with Kenny at the helm.
The Mayor of Townsville (The Powerpuff Girls)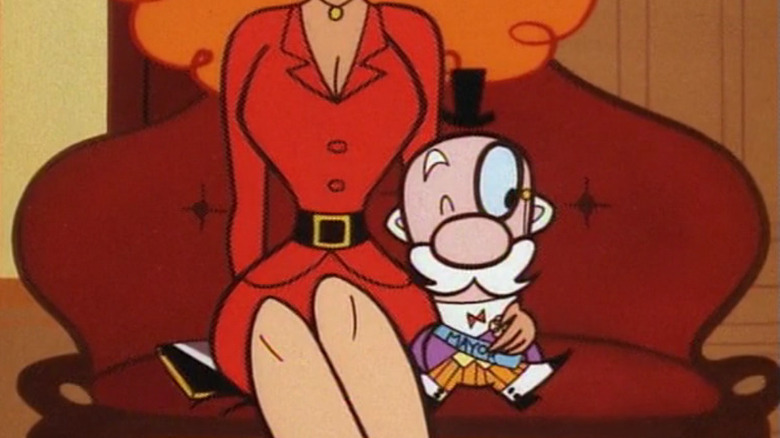 Cartoon Network Studios
If only every old man in government were as adorable as The Mayor of Townsville. His blissful ignorance may set the stage for terror to run amok, but he's such an enthusiastically silly geezer that his reputation will forever remain spotless in our eyes. Besides, they say behind every great man is a great woman — or, in this case, four great women: The Powerpuff Girls and Ms. Sara Bellum (a joke that still hits today), his trusty secretary. If anything, he's keeping the great tradition alive by knowing his place. After just one attempt at keeping the city safe in the episode "Hot Air Balloon," in which he inadvertently strikes a missile that destroys all of Townsville, it's clear that his job is best kept to manning the Powerpuff Hotline.
Sporting a Monopoly Man mustache and particularly strong attachment to his top hat, Mayor's old-timey look and old-fashioned sensibilities make him a perfect character to bounce off of the many strong personalities in Craig McCracken's masterful cartoon series. Tom Kenny voiced several characters on the show, including Snake and Lil' Arturo of the Gangreen Gang, as well as the commanding Narrator featured in the theme song and every subsequent episode. However, his witty and warbly vocal stylings as The Mayor are his greatest contribution, which he reprised in the show's successful 2016 reboot (he was also cast as the Narrator for the ill-fated live-action reboot). The character is, of course, incredibly silly and a bit misogynist by 2023 standards. However, Kenny's sheer sincerity and comic timing in the part keep the character timelessly lovable.
Spyro (Spyro)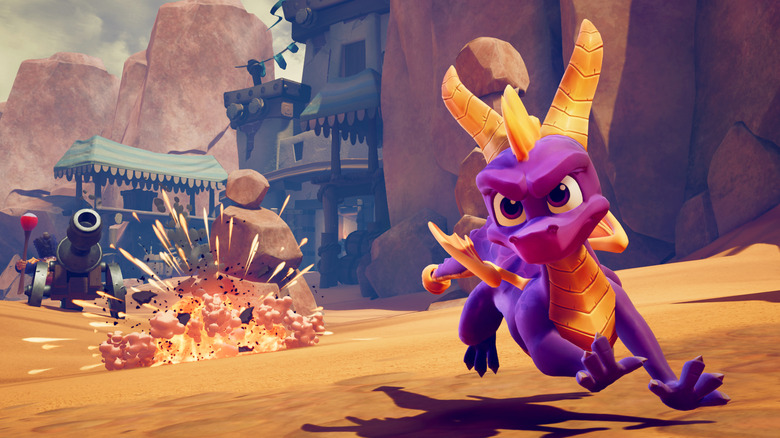 Activision Blizzard
In the world of video games, soaring above a resume of television tie-in dreck is Kenny's stint as the voice of the beloved PlayStation character, Spyro. The actor still gets love for this role at conventions all year round (even when he's there representing totally different characters), which is pretty impressive given that he wasn't even the original voice. Fellow veteran voice actor Carlos Alazraqui (who worked with Kenny on "Rocko's Modern Life") first voiced the little purple dragon in 1998's "Spyro the Dragon." However, Kenny replaced him in the series' follow-up, "Spyro 2: Ripto's Rage," and went on to voice him in the following two console installments.
These were Kenny's only three appearances as Spyro across the entire franchise; the character has gone on to be voiced by several talented gents, including renowned celebrities like Elijah Wood and Justin Long. Yet, when Activision set out to remake the original PlayStation run as the "Spyro: Reignited Trilogy," who did they call to voice our fire-breathing friend? Tom Kenny. So what makes him the definitive voice? Well, aside from the fandom's nostalgic embrace of the original trilogy's luscious world and intuitive game mechanics, Kenny himself imbues the character with a spunk that captured the imaginations of PlayStation millennials. He's a bit of a trash-talker, which makes him a funny protagonist, but he's also a bonafide hero, helping innocent communities in need with little hesitation. He walks the walk and talks the talk even though he's just a kid, which made him an icon for young gamers. Indeed, Spyro was proof that the sky really is the limit.
Eduardo (Foster's Home for Imaginary Friends)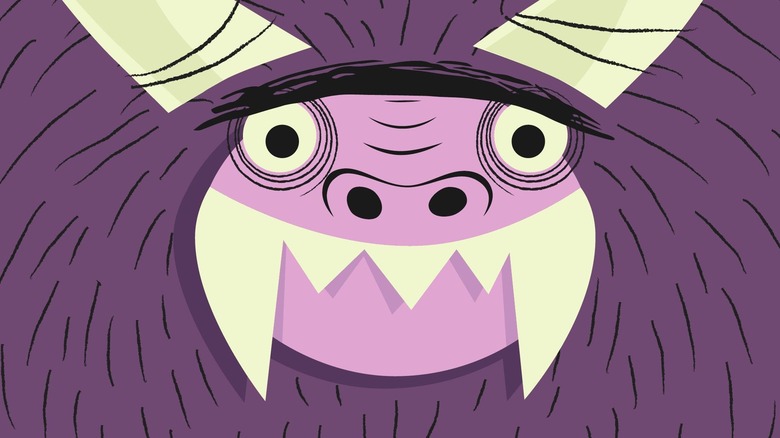 Cartoon Network Studios
Across Tom Kenny's career, his nasally effect is instantly recognizable, but almost to a fault. We love the guy, but sometimes it can be tough to separate him from so many of his best roles. Eduardo is one of those rare cases in which Kenny becomes a complete chameleon, disguising his bright vocal tone behind a deeply guttural Spanish accent (it's unclear whether or not Kenny playing a Latino bull is problematic by today's standards). It makes for one of Kenny's most distinct characters, courtesy of a show that remains one of Cartoon Network's most original and gut-busting comedies.
Set within a world where imaginary friends exist and populate a thriving foster home, Eduardo was created by a young girl named Nina to protect her from local bullies. However, despite his gargantuan size and literally bullish features, he was also designed to be a kind and sensitive creature. In fact, he's maybe a little too sensitive. Bloo often makes fun of Eduardo for being a scaredy cat, but you wouldn't like this hairy chicken when he's angry. In the show's pilot, "House of Bloo's, Part 1," Eduardo saves Mac from an Extremeosaurus by giving "running of the bulls" a whole new meaning. He may be prone to aggressive outbursts, but only to protect his friends. In reality, Eduardo wouldn't hurt a fly — or even a flea. Even when infested with vermin, as seen in "Land of the Flea," he still makes room for everyone. Lover of all things puppies, potatoes, and personal hygiene, everyone at Foster's is glad to have a good-natured friend like Eduardo.
The Penguin (The Batman)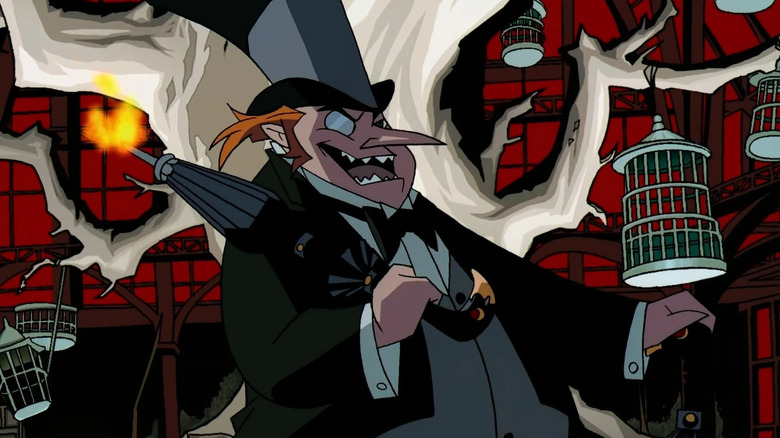 Warner Bros. Animation
Though diehard fans never got on board with its revisionism, 2006's "The Batman" still holds up as a daring reinvention of the Caped Crusader's mythos. The series' boldest transformations were found in Gotham's iconic rogues gallery, now with striking new designs and audacious new backstories. In the case of Oswald Cobblepot, aka The Penguin, the basic tenets remain the same; he's short and stout with a monocle and top hat, though now made comically enormous. However, this iteration is a visibly younger playboy who, after returning from his travels abroad, unearths a difficult family history. Alfred Pennyworth's grandfather used to be a butler for the Cobblepots, a wealthy power family who were very disrespectful to their staff. Needless to say, the apple doesn't fall too far from the tree.
It turns out that the Cobblepot fortune has run dry, so Oswald must resort to bird-themed thievery. After spending some years traveling in Asia, he has acquired numerous different species of birds, as well as two creepily flexible twin bodyguards, problematically named The Kabuki Twins. Highly acrobatic and stocked with a multi-purpose umbrella, Oswald is determined to put the Cobblepot name back on top. Not only does this version of The Penguin deepen the character's psychology, but it also draws similarities between him and Bruce Wayne in a way that deepens their relationship. However, the character would be nothing without Tom Kenny's vocal work. Though he was inspired by Burgess Meredith's take from 1960, Kenny's voice is far more grizzly and, fittingly, grating. Given the character's irritating personality, it's quite appropriate.
Rabbit (Winnie the Pooh)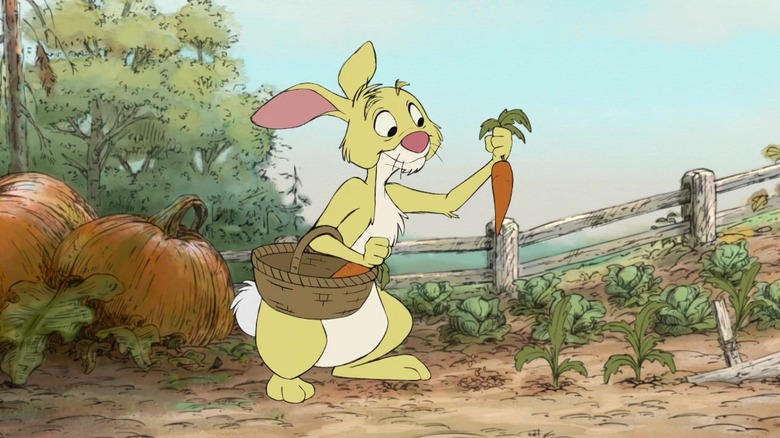 Walt Disney Animation Studios
There are few fictional worlds that remain as effortlessly wholesome as A. A. Milne's "Winnie-the-Pooh" series. Originally published in 1926, his adorable characters retain a sincere purity that, to this day, is as enchanting as when they debuted under the Disney banner in 1966. Though 2011's attempt at reviving the franchise fell on deaf ears, it's about as faithful as a modern adaptation could have been. Each character is brought to new life in the same spirit as the original shorts.
Take Rabbit, for instance, a high-strung creature of cleanliness that can be well-mannered in one moment and visibly frustrated the next. In the film, Rabbit takes on a leadership role in helping the gang catch the mythical Backson, who they believe has kidnapped Christopher Robin. Though this version of the character doesn't get quite as manic as earlier interpretations, his squash-and-stretch is still rendered with excellent fidelity as Pooh and Piglet fail to adapt to Rabbit's militaristic strategy.
It's no surprise that Kenny, well-known for portraying silly, lovable characters, was asked to join the Pooh-niverse. However, many of his characters' voices sit in his upper register, making him a perfect successor to Rabbit's longtime voice actor, Ken Sansom. He perfectly recreates the character's proper manner of speaking, but you can hear a sharper, more spry delivery, matching the updated animation style. Kenny would go on to voice the character in "Kingdom Hearts III," but has not reprised the role since. We hope to see Kenny one day return to the Hundred Acre Wood.
Dog (CatDog)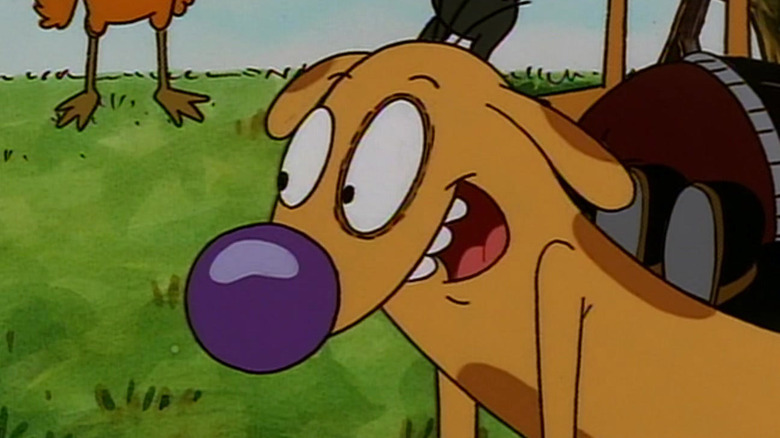 Continuing in the Tom Kenny tradition of bumbling yellow oafs comes "CatDog," the most anatomically-confusing cartoon of the 1990s. It's never made clear exactly how a cultured cat and a distractible dog could be born as conjoined twins, attached at the tail. And yet, one fine day with a woof and a purr, they found their way into this world. Never before has such a troubling premise made for such a bangin' theme song.
Residing in a dichotomous house in the town of Nearburg, many episodes of "CatDog" saw the brothers at odds with their clashing personalities and physical limitations (though their body is quite elastic given the circumstances). Featuring an eccentric cast of supporting characters, including a Brooklynite mouse and a greaser gang of street dogs, Peter Hannan's bizarre little show managed to run for over seven years on Nickelodeon.
Kenny voices Dog with a tone reminiscent of Heffer Wolfe, but with a slight throat blockage that creates a distinct new sound for the character. It's almost as though he has his tongue stuck in his throat, which makes sense given Dog's intense overbite and excessive eating habits. It's an innocent, childlike voice that sits in direct contrast to Cat's sharper sound, emphasizing Dog as the more amicable of the pair. Many characters prefer Dog to Cat, though sometimes people take advantage of Dog being a bit dim and gullible, not to mention very susceptible to speeding garbage trucks and juicy steaks. Still, he's the only dog that's so earnest that he could go beyond "man's best friend" to become "cat's best friend."
Starscream (Transformers: Animated)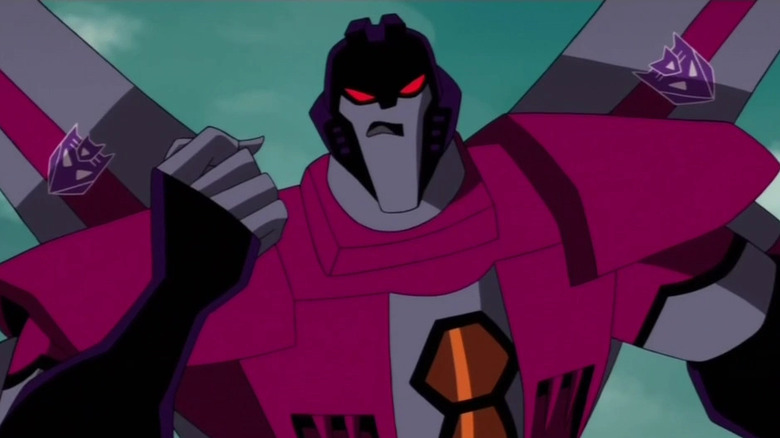 Across Hasbro's vast franchise, "Transformers: Animated" is a unique one-off series that reconfigures the Robots in Disguise. This includes Starscream, Megatron's insufferable second-in-command who longs to usurp the throne. Here, his opportunity comes a bit earlier than usual; during a confrontation in the show's pilot, Starscream sneakily plants an explosive on Megatron's back, promptly killing him. With the franchise's seminal villain gone, Starscream is left to serve as the primary antagonist and pursue the Allspark for himself.
He remains front and center until Megatron is resurrected in the Season 1 finale, after which he kills Starscream for his betrayal. However, a piece of the Allspark lodged into Starscream's head keeps him alive. Following two seasons of Shakespearean back-and-forth between teamwork and deception, Starscream is "definitively" killed in the series finale, even though storyboards confirm the show's creators planned to revive him for the now-canceled fourth season. It may be fun to watch Starscream get his comeuppance, but it's even more delicious to see his delusional confidence rise again.
There is no rustbucket we love to hate more than Starscream, so who better to voice him than the most lovable actor there is? We see a whole new side of Kenny in this slimy role; his typical high-pitched, nasal tonality is layered with robotic vocal effects and channeled into a conniving, determined evil. However, we still get comedic moments sprinkled throughout, from brief breaks in the drama to Starscream stooping in defeat when he least expects it. All of this coalesces into a perfect representation of what fans love about this dastardly underling.
Raimundo Pedrosa (Xiaolin Showdown)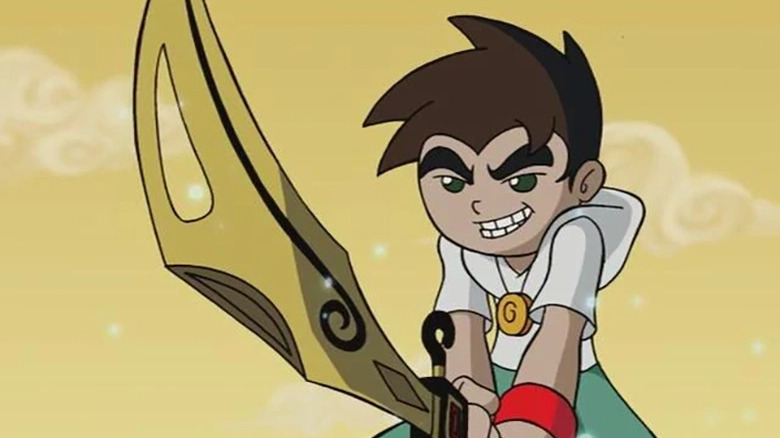 Warner Bros. Animation
Despite three successful seasons and plenty of merchandising, there's a chance you may not remember "Xiaolin Showdown." This high-flying action series from Kids' WB fused Eastern culture with Western animation to create something entirely its own, making it long overdue for a pop culture reappraisal. The show centers around the Xiaolin Dragons, four elemental martial artists who are tasked with protecting a collection of ancient superpowered artifacts, the Shen Gong Wu, from villains like the dastardly Jack Spicer and the ghostly spirit Wuya. Tom Kenny lent his voice to Raimundo, Dragon of the Wind, across all three seasons, making it one of his more substantial, yet forgotten, voice roles.
Originally a self-absorbed surfer dude from Brazil, Raimundo's disrespect for authority makes him a powerful warrior, but a difficult student. This arrogance often puts his fellow warriors, and the safety of the Shen Gong Wu, in jeopardy. This comes to a head in the Season 1 finale when Master Fung's refusal to graduate Raimundo to Xiaolin Apprentice drives him to join forces with Wuya and resurrect her into human form. Ultimately, Raimundo recognizes the value of his friends and undoes the damage, eager to start over and rightfully earn his apprenticeship, which he does later in Season 2. It's a surprisingly subversive arc for a humble children's show, which makes it stand out amongst Kenny's catalog. Kenny's voice for Raimundo may be a more straightforward performance, but that effectively grounds the character so that his humanity shines through. Thankfully, this doesn't stop Kenny, in combination with the show's animators, from still providing his wonderful brand of comic relief.
The Amazing Mumbo (Teen Titans)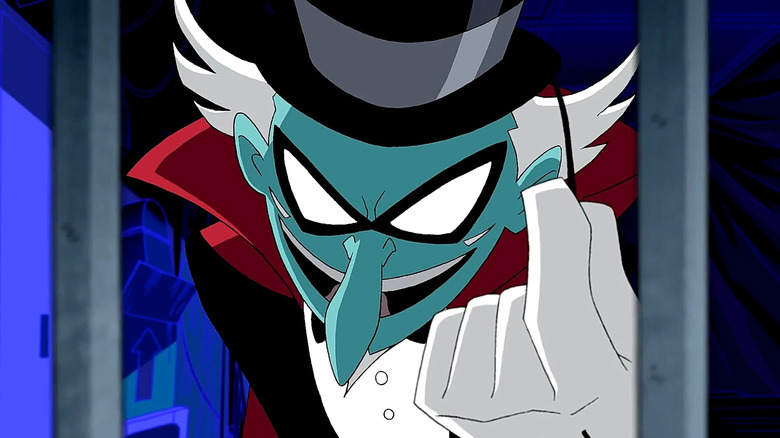 Warner Bros. Animation
Every Tom Kenny performance is a work of magic, but this trickster takes that phrase to new heights. Even with Kenny's history with DC Comics, few of his characters are as whimsical as The Amazing Mumbo, a wholly original villain created for the "Teen Titans" universe. Sometimes called Mumbo for short, this wisecracking magician takes simple sleight-of-hand magic tricks and transforms them into outrageous spells. From an onslaught of rabbits out of his hat to actually sawing somebody in half, there's always a playful reinvention up his sleeve (sometimes literally). His power stems from — where else — his magic wand, which is the only thing keeping Mumbo's real identity, a humble older man, disguised in this younger, tuxedo-clad alter ego.
However, a tool just as mindbending is his top hat, which transports the Titans into an elaborate dream world where Mumbo is a star magician. As seen in one of the funniest episodes in the series, "Bunny Raven ... or .... How To Make a Titananimal Disappear," Mumbo transforms each member of the team into a furry creature — except for Beast Boy, who becomes a series of inanimate household objects. Raven, a legitimate sorceress who finds Mumbo's brand of magic childish, is held captive in front of a conjured audience of Mumbo clones (including fun tributes to Muppets Statler and Waldorf). In an episode jam-packed with hilarious jokes, imaginative action, and even a musical number, Kenny is given room to embody one of his go-to modes: self-satisfied showman. His enthusiastic arrogance and comedic timing make this character one of the Titans' most memorable, though relatively under-featured, foes.
Patchy the Pirate (SpongeBob SquarePants)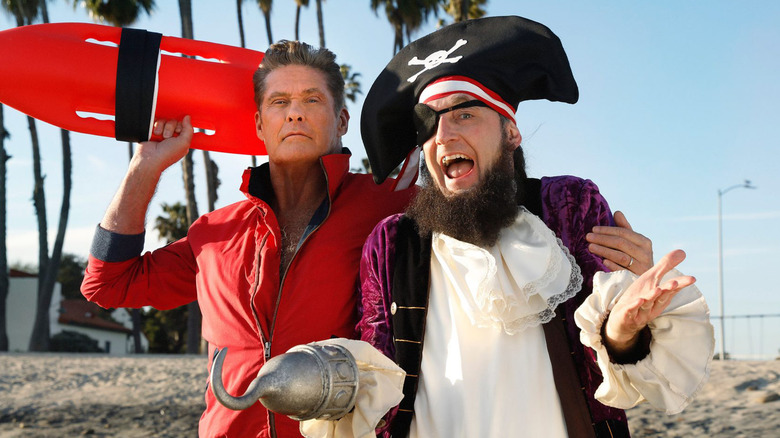 Nickelodeon Animation Studio
We may have excluded the sponge himself, but Kenny's contributions to Nickelodeon's most successful series go far beyond the show's title character. He not only voices Gary the Snail and the show's French narrator ("Three Hours Later ..."), but he also gets some screentime as Patchy the Pirate, a household pirate based in Encino, California, and president of the SpongeBob SquarePants Fan Club. Inspired by public access programs, he is often seen addressing the audience directly as the emcee for special half-hour episodes, including classics like "Christmas Who?" and "The Sponge Who Could Fly." Often at odds with his raucous parrot, Potty, they provide plenty of destructive laughs, including getting chomped by a T-Rex in "Spongebob B.C.," or Potty exploding at the end of "Shanghaied."
The best thing about watching Kenny commit to a live-action character is that it harkens back to the actor's roots in sketch comedy. Making scripted jokes on a set is what Kenny was known for long before he hit it big as a voice actor. Here, he gets to do that within the boundlessly creative world of Stephen Hillenberg, indulging in silly pirate-related bits like hunts for buried treasure at a local playground or highway traffic in a humble rowboat. Kenny is completely disguised in not only a scurvy voice but also full pirate garb, including an eyepatch that mysteriously swaps sides of his face between episodes. Patchy was designed as a clever framing device, but it also gave the show's creative team an excuse to have just as much fun with Kenny on camera as they did in the booth.