Birth/Rebirth Review: Two Great Lead Performances And A Surprisingly Funny Script Bring This Horror-Drama To Life [Sundance]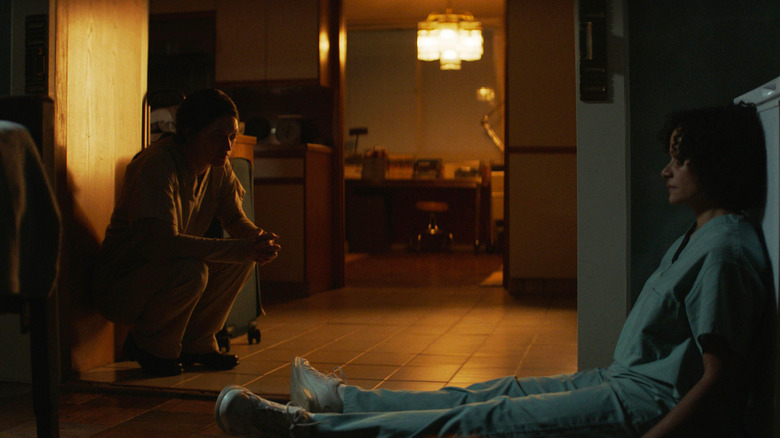 Shudder
Potential unavoidable spoilers follow.
Ever since Mary Shelley got together with a bunch of poetry nerds one dark and stormy night and penned "Frankenstein," the horror genre has taught us that reanimating the dead is always a bad idea. And yet horror movie characters keep doing it, again and again. When will they learn? Not anytime soon, I suppose, especially not in "Birth/Rebirth," Laura Moss' delightfully twisted horror drama about cheating death. It's dark, even bleak subject matter, and there's an abundance of gore and body horror sprinkled throughout. And yet, the script, penned by Moss and Brendan J. O'Brien, is frequently funny in an extremely macabre way. That deep, dark humor injects life into "Birth/Rebirth" just like a lightning bolt hitting Victor Frankenstein's creature. 
That humor is aided by a knock-out performance from Marin Ireland, playing Rrose, an extremely socially awkward pathologist who seems to have never developed anything approaching people skills. Ireland's frequently disgusted reactions to those around her garners big laughs, and it makes us like her character even though if we met this person in real life we'd probably be appalled.
We're introduced to Rose cutting into a recently dead corpse and harvesting some eternal organs — but not for donation. Instead, she tucks them away in a giant rolling suitcase and brings them home. What is she up to? Clearly something is not on the level. She's extremely driven and wholly devoted to her research in her quest to somehow beat the inevitability of death. Of course, anyone whose read "Frankenstein" can tell you this isn't the best idea for an experiment. 
Humor and horror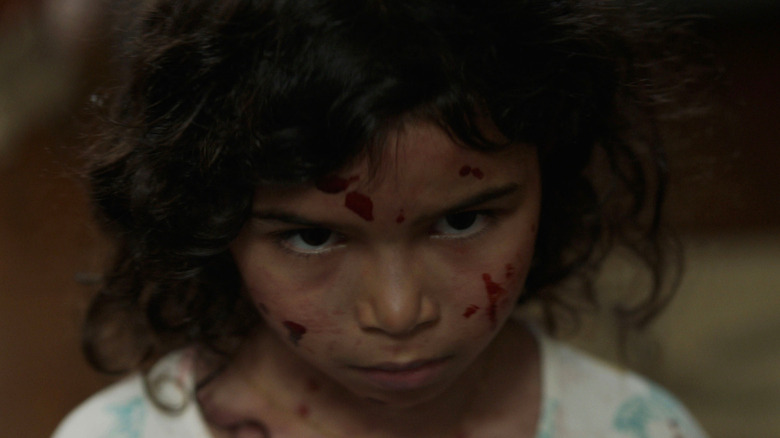 Shudder
Rose works at the same hospital as Celie (Judy Reyes), a kind maternity nurse with a 6-year-old daughter named Lila (A.J. Lister). Reyes is just as good as Ireland here, playing a much different character. Celie is warm and personable while Rose is cold and often cruel. They're an unlikely pair — until a horrible tragedy pulls them together. This unexpectedly draws Celie and Rose together, the two of them becoming an odd couple living together, with Celie making Rose salads and assisting her in her experiments. 
An unexpected illness results in Lila's death — but Rose has found a way to bring the child back from that undiscovered county. Sort of. Lila doesn't exactly spring up fully healed — she seems shell-shocked, her cognitive abilities potentially altered by her passing. Right about now you might think "Birth/Rebirth" is going to go the "Pet Sematary" route and turn the resurrected Lila into a tiny slasher. But "Birth/Rebirth" has other things on its mind. The horror instead arises from the simple question: how far would you go to save your child?
With this scenario, "Birth/Rebirth" cleverly switches things up — Celie starts to become the cold, calculating one, while we start to almost sympathize with Rose, who really is trying everything she can to keep Lila alive. Ireland and Reyes play off each other perfectly, and more humor arises from how mismatched these two former strangers are. The back and forth between these co-leads is often the best thing about the film.
The film begins to sag and lul in its middle portion, and there's a shocking scene that feels slightly out of place — added to perhaps satisfy horror hounds. The horrors of "Birth/Rebirth" are subtle, so much so that those who eventually watch the film on Shudder (where it's headed) might be disappointed and long for something scarier. But there's plenty of slow creeping dread on display here, matched with that dark humor and two fantastic leads. It all comes together to make "Birth/Rebirth" one of 2023's more interesting horror entries.
/Film Rating: 7 out of 10