Barry Jenkins Had One Reservation About Making Moonlight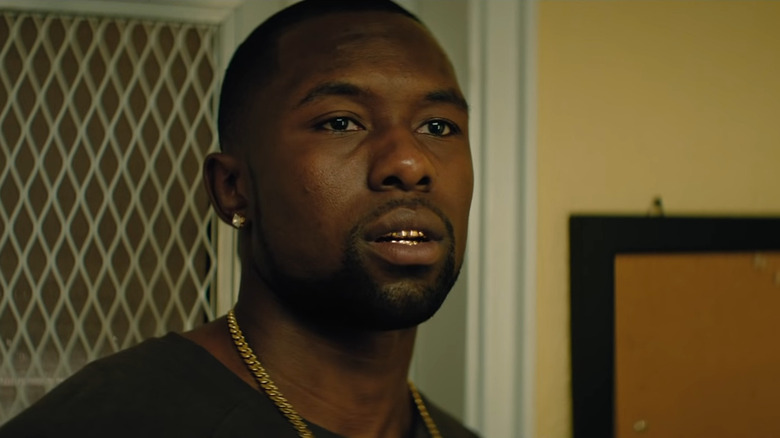 A24
With the 2010s firmly in the rear-view mirror, we can now look back on which films from that decade stand the test of time. And you couldn't possibly compile the best of the best without including "Moonlight." History will remember it as an Oscar best picture recipient, but to those who watch it, the coming-of-age tale means so much more.
Barry Jenkins possesses the ability to get to the intimate pulse of a character's journey, and in "Moonlight," we get to see that through three perspectives and three different ages. Little (Alex Hibbert), Chiron (Ashton Sanders), and Black (Trevante Rhodes) represent the evolution of a queer Black man — as a child, a teenager, and then an adult — in a turbulent world that opens itself up to him in the most unexpected ways. The things that we see at such critical points in our lives shape us into either who we want to become, or who we end up becoming.
Curiously, Hibbert, Sanders, and Rhodes never interacted with one another while making the film. But seeing the transition from one performance to the other, the picture becomes just as clear, if not more so, than if they had. It speaks to the fact that although there is a throughline of our life, these are three developmental stages that couldn't be more different from one another. But at the heart of Chiron's journey is the vulnerable expression of one's masculinity, while in the company of kindness.
Jenkins' touch behind the camera guides Chiron along a path of small triumphs amid the bumps in the road with tender affection. It feels so achingly personal that it couldn't have possibly come from anyone else, but a key aspect of the story nearly prevented Jenkins from even taking on the project.
Jenkins was hesitant to take on an LGBTQ+ tale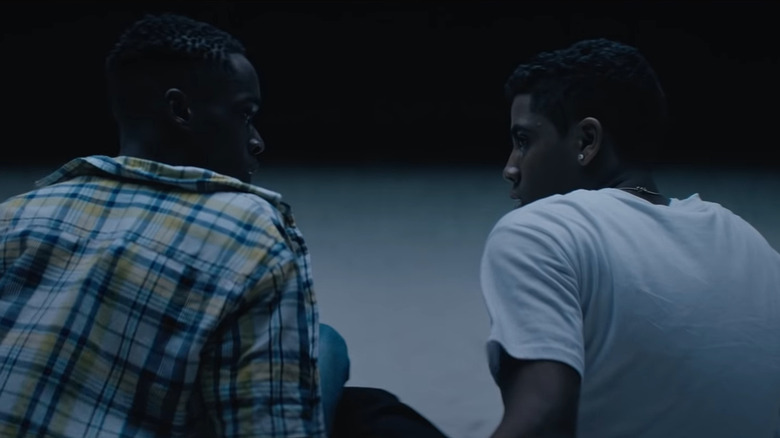 A24
After his feature directorial debut "Medicine for Melancholy" in 2008, it took eight years for Barry Jenkins to get his sophomore film off the ground. During that period, he came across the work of playwright Tarell Alvin McCraney, whose shelved play "In Moonlight Black Boys Look Blue" — written a decade prior to the film's making — was passed to him by a Miami non-profit (via Fader). Jenkins was eager to bring McCraney's semi-autobiographical story to the screen, but the fact that he isn't gay made him contemplate whether he was fit to tell it (via The Guardian):
"Can I, as a straight man, really tell this story fully –- in the way it needs to be told? But I approached this as an ally. Tarell is very openly gay and I felt like if I preserved his voice, it would at least pass the smell test. I saw myself in Chiron in every way –- except for that one aspect of his identity. If I turned my back on him for that, it would be cowardly. I couldn't have lived with myself if I'd done that. So I felt I had to become a better man, a more secure man, to make this film."
I think it speaks to Jenkins' character that he recognizes the reflective position he's put himself in. Whether they're behind the camera or embodying the character themselves, straight talent telling queer stories has always been a risk. It's important to tell queer stories from a queer perspective, but in the case of "Moonlight," I was surprised by how intimately he handled the material.
The film brilliantly captures the poetic euphoria of finding the people who get you, while you're still trying to figure out what that means. Although Jenkins isn't queer, there was one important thing that gave him an in regarding Chiron's upbringing.
Moonlight writers share parallells to Chiron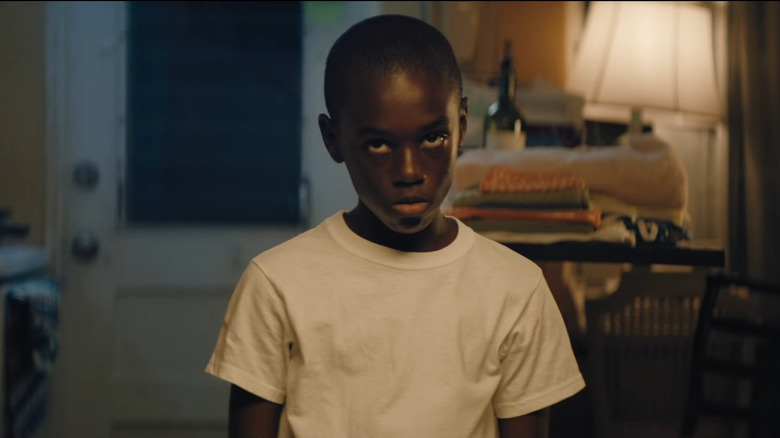 A24
Barry Jenkins not only adapted Tarell Alvin McCraney's play for the screen but co-wrote the script with him as well — the two would go on to win best adapted screenplay at the 2017 Oscars. McCraney's voice is ever present in the transcendently beautiful world that Jenkins has crafted from his material. The queer disconnect seems like it could have been a dividing factor, but in reality, the two had more in common than they initially thought.
"Moonlight" takes place in Liberty City, Miami in the '80s when the crack epidemic and the AIDS crisis were at an all-time high. In fact, Jenkins and McCraney didn't live too far from one another growing up but didn't realize it until much later (via The New York Times). Even their childhood upbringings were strikingly similar, as they both saw their mothers succumb to epidemics of the era.
Once you're aware of that, watching "Moonlight" becomes this enlightening experience of two successful artists revisiting the echoes of their childhood. Although Jenkins is the directorial force, McCraney's experiences as a queer kid are integral to the story. The most important thing an ally can do is embolden and validate queerness — and "Moonlight" has taken McCraney's life and work to a bigger audience for decades to come.