How Sylvester Stallone And Carl Weathers Nailed Their Rocky Fight Choreography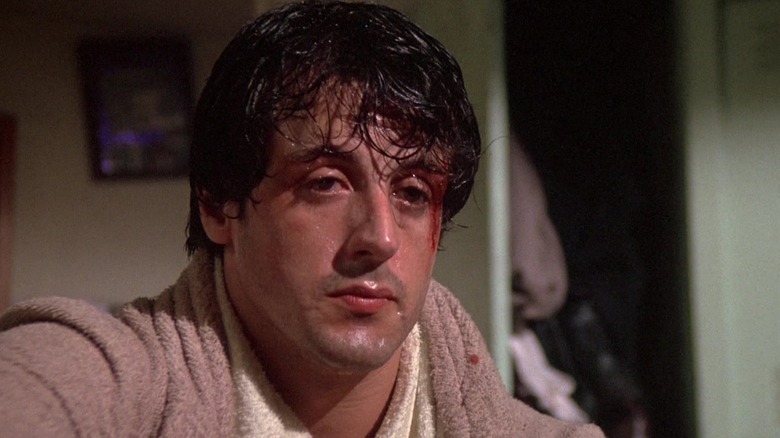 United Artists
We may receive a commission on purchases made from links.
There are a lot of great sports movies out there, but very few people will argue with you if you call "Rocky" the most significant sports movie of all time. It's undoubtedly one of the best underdog stories out there. The 1976 film was directed by John Avildsen and written by Sylvester Stallone ("Tulsa King") — in three and a half days — who fought like a champ to not only get the movie made but also to make sure he starred in it. 
In the film, Rocky Balboa (Stallone) is a local fighter and debt collector who gets an opportunity to fight the reigning champion Apollo Creed (Carl Weathers) in a heavyweight championship. He trains in unconventional ways, including punching sides of frozen beef, and though he doesn't exactly win, he does get what he needs; the love of Adrian (Talia Shire) in the end. 
The film is still a favorite among boxing fanatics because of the incredible fights. Weathers (who is now returning to the role of Greef Karga in season 3 of "The Mandalorian") wasn't a boxer, though. He was a former pro football player-turned-actor, and he and Stallone had to do some serious work to make those fight scenes look authentic, according to a 2016 Yahoo! story about the making of the film. 
'Every champion was once a contender who refused to give up'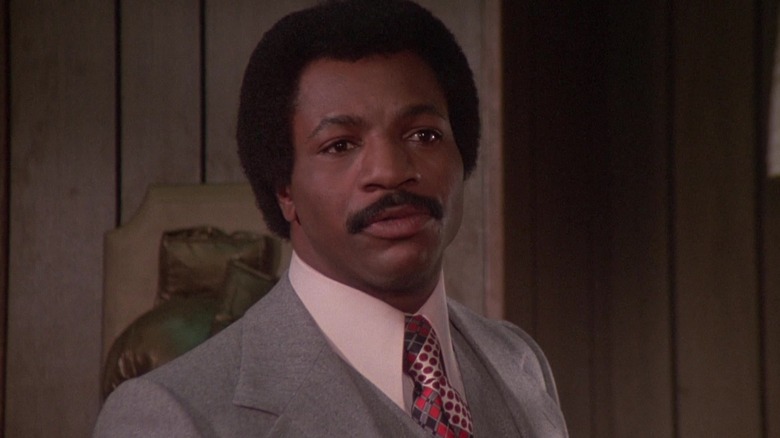 United Artists
In a 2015 interview with The Hollywood Reporter, Carl Weathers recalled that he made a mistake in his audition that could have lost him the role. He said that he was told there was no one to read with and that he was "going to read with the writer." That was, of course, Sylvester Stallone. He said: 
"And we read through the scene and at the end of it, I didn't feel like it had really sailed, that the scene had sailed, and they were quiet and there was this moment of awkwardness, I felt, anyway. So I just blurted out, 'I could do a lot better if you got me a real actor to work with' ... So I just insulted the star of the movie without really knowing it and not intending to."
Stallone apparently thought this was something Apollo Creed would have said, and it got Weathers the role of a lifetime. It seems like they were actually starting on the right foot. However, the Yahoo! story references the 2014 Heavyweight Edition Blu-ray of the film and a story that John Avildsen told about their fight training, and it sounds like it was a bit of a mess. The two of them were working on some fights in a Santa Monica, California gym. Avildsen says, "They got in the ring, and one guy said, 'I'm gonna do this,' and the other guy said, 'I'm gonna do this,' and I realized they weren't going to get anywhere." Avildsen suggested the two map out the fight and learn it as if they were learning a dance, leading Stallone to come in with over a dozen pages of notes the next day with the shape of the fight.
Eye of the tiger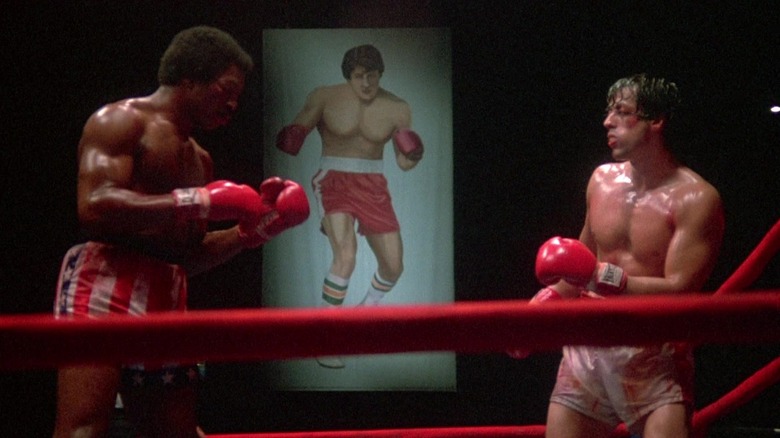 United Artists
Carl Weathers had never boxed before, but if you watch the film, you absolutely cannot tell. Sly Stallone and Weathers did some major training, with Weathers reportedly bulking up for the part through two weeks of eight-hour days in the ring. Not only that, but John Avildsen gave them a little look at what they were doing by shooting 8mm footage of them in that ring, so they could see "how terrible they were." It drove them to get better, sparking the franchise's five sequels and the spinoff/sequel trilogy "Creed," starring Michael B. Jordan. The third film in that part of the franchise will hit theaters on March 3, 2023.
Weathers returned with Stallone in "Rocky II," "Rocky III," and "Rocky IV," and the "Creed" franchise is set around Apollo Creed's son Adonis. "Rocky" went on to be nominated for 10 Academy Awards, winning three, including Best Picture. Even the theme song "Eye of the Tiger" (I won't even apologize for putting that in your head) still conjures up images of that famous final fight.