Chucky Just Got Renewed For Season 3, Because He's Your Friend To The End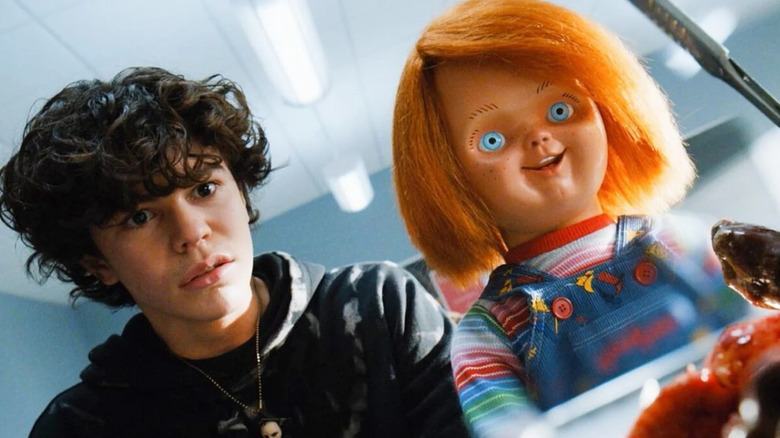 Syfy / USA Network
Serial killer. Voodoo practitioner. TV star. Is there anything that Charles Lee Ray can't do? Apparently not, as Syfy and the USA Network have officially renewed "Chucky" for season 3, which will be arriving later this year. 
Don Mancini, creator of the TV series as well as the horror film franchise that preceded it, shared this statement celebrating the news:
The cast and crew of "Chucky" would like to thank fans and critics alike for their overwhelming response to season 2, which we're delighted to announce has now spurred the official greenlight on season 3. This news has made Chucky very happy. Thank Damballa for that because otherwise Chucky would have been frankly impossible to deal with. Many thanks also to our partners at SYFY, USA and UCP for helping us keep Chucky busy. See you in 2023 for what Chucky himself promises will be his scariest season ever.
Premiering in 2021, "Chucky" followed eight feature films in the "Child's Play" franchise (including the 2019 reboot) and paired the possessed Good Guy doll with a new best friend, Jake Wheeler (Zackary Arthur). Miserable at home and bullied at school, Jake was tempted by Chucky to follow in his homicidal ways. Instead, he ended up allying with his bully, Lexy (Alyvia Alyn Lind), and his crush, Devon (Björgvin Arnarson), to fight back against Chucky and his equally deranged on-again-off-again girlfriend, Tiffany (Jennifer Tilly).
Ade due damballa, give me Chucky season 3, I beg of you
A "Child's Play" TV series could have easily gone wrong; horror isn't the easiest genre to turn into long-form episodic storytelling. But "Chucky" has thrived thanks to the depth and complexity of its characters, offering a mature look at the darkest corners of teenage angst, including downright sociopathic bullying and the struggle of being gay in the hostile world of middle school. Oh, and there are also plenty of fun kills and truly diabolical needle drops.
"Chucky" season 2 brought Jake, Devon, and Lexy to a new school, but their old pal wasn't far behind them. The series' sophomore outing dipped slightly in ratings compared to season 1, but according to the season 3 announcement it still ranked among the top 10 cable dramas of 2022 in the 18-49 demo, so Chucky lives to kill for another season. 
We don't have a premiere window more specific than "2023" yet, but for comparison's sake "Chucky" season 2 began filming in April 2022, wrapped in August, and premiered in October, so season 3 could follow a similar schedule. Interestingly, everyone's other favorite killer doll, M3GAN, is under the same NBCUniversal umbrella as the "Child's Play" franchise, so maybe M3GAN could make a guest appearance to give us the ultimate showdown.