Behind The Mask: The Rise Of Leslie Vernon Is Expanding Into Its Own Horror Movie Universe With New Short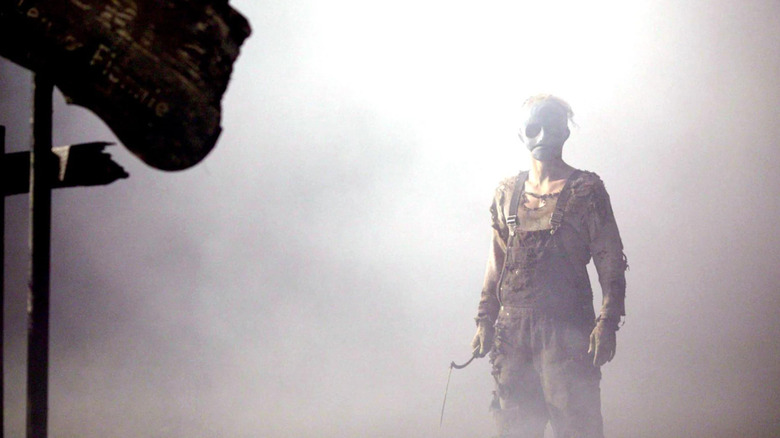 Anchor Bay Entertainment
"Behind the Mask: The Rise of Leslie Vernon" has always been one of those horror films that seemed destined for a small but passionate fanbase. Both a love letter and a satire of the slasher subgenre, it has never quite broken into the mainstream, but the people that have watched it continue to sing its praises 17 years later. It's genuinely a really cool take on the mockumentary format and questions why audiences are so much more attached to killers than their victims. If the boom of the true-crime subgenre is anything to go by, perhaps these ideas are more important to discuss than ever before.
Thankfully, it sounds like we're about to return to the world where our favorite slashers like Michael, Freddy, and Jason are real. Bloody Disgusting exclusively revealed the first look at "Wait for It," a short film from "Behind the Mask" screenwriter David J. Stieve, which takes place in the same universe as the 2006 satire. Much like that film, "Wait for It" has been teased as a fresh deconstruction of slashers and is very aware of the cult following its predecessor carries.
"If I was really going to do this, it was important for me to pay homage to the character of Leslie Vernon," said Stieve in a statement to Bloody Disgusting. "This small but mighty film is my humble offering in all these regards, and I hope you find it worth the wait."
Psycho killer, qu'est-ce que c'est?
"Wait for It" has been in development since 2017 (via Bloody Disgusting), having originally been funded through an IndieGoGo campaign. It's not clear why the film was delayed for so long, but what's important is that it got made in the first place. 
Although horror comedies aren't really my thing, I have a bit of a soft spot for "Behind the Mask" due to its compelling world-building, intricate pastiche, and clear love for the genre. The quirky demeanor of Leslie Vernon (Nathan Baesel) makes him a unique slasher in his own right, but he really becomes memorable when that comforting personality gets dropped completely, making him a legitimately scary threat.
Needless to say, I'm pretty stoked that the world of Vernon is returning, especially after its sequel never panned out. Executive producer Chris Gierowski told Bloody Disgusting that he was honored and happy to help bring the world back to audiences, while also revealing that "Wait for It" has been submitted to several film festivals.
"We are hoping that people want to see more of the 'Behind The Mask' universe that David has created," wrote Gierowski.
"Wait for It" centers around a young woman named Darcy (Lily Anne Harrison) who has previously survived a mysterious killer. When she travels home from a party, she begins feeling like this tormentor has returned. Whether that figure will be Vernon is uncertain, although Baesel has been confirmed to appear in the short.
"Wait for It" will premiere sometime in 2023.