Tim Robbins Thinks This Is Why So Many People Resonated With The Shawshank Redemption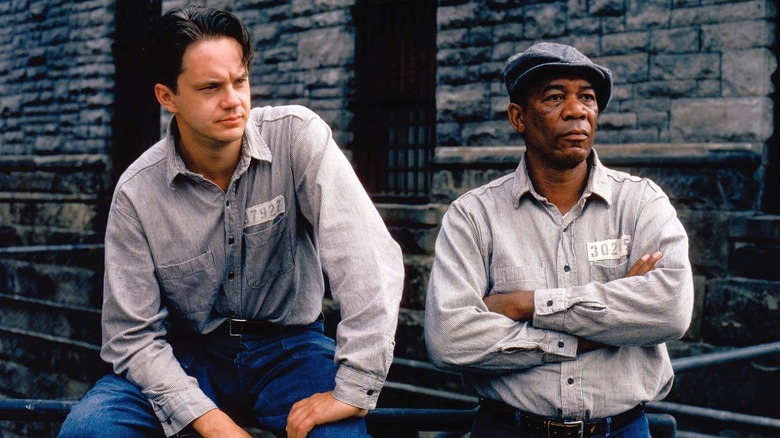 Columbia Pictures
I'm willing to go to the mattresses to argue that Frank Darabont's "The Shawshank Redemption" is a perfect movie. Its origins as a Stephen King novella means it is naturally rich in character development, and the characters are flawed yet sympathetic and likable. The setting of the Shawshank State Penitentiary creates a frightening inanimate antagonist that slowly drains the life out of its inmates. The narrative moves at a relaxed pace, but with beats that keep you intrigued until the credits roll.
Cinematographer Roger Deakins brings the listless prison to life while painting a brilliant visual portrait of despair and hope. Camera movement is slow and deliberate, much like the time passing on a life sentence. The production design team offers a clinic in mise-en-scène by blending meticulously crafted period piece sets with location shoots at a real-life crumbling state prison (The Ohio State Reformatory).
And the chemistry between stars Tim Robbins and Morgan Freeman just pours from the screen. Even in a place that brings you "close to madness the first night," prisoners Andy Dufresne (Robbins) and Ellis "Red" Redding (Freeman) forge an unforgettable friendship that gives both men a reason to go on living.
Robbins believes that the friendship between the two is one of the main reasons so many people connect with the film.
A buddy film with real meaning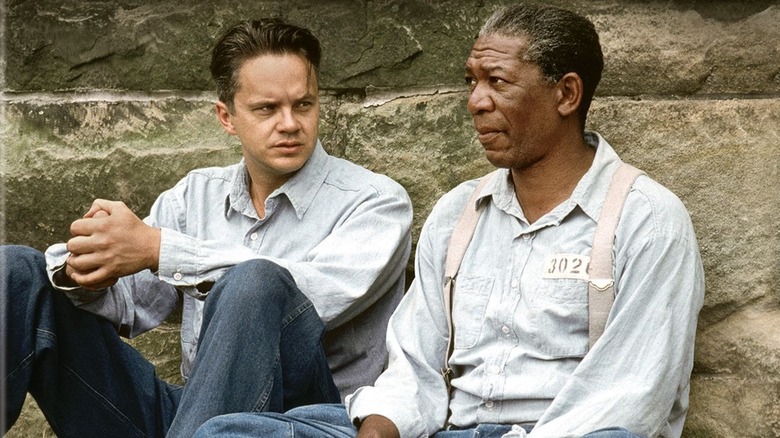 Columbia Pictures
When Andy Dufresne is wrongfully convicted of killing his wife, he's sentenced to life in prison at the Shawshank prison. When Red Redding first lays eyes on the "tall drink of water" newcomer, he doesn't think much of him, expecting Andy to be the first one of the bunch to crack. But slowly, over the next 30 years, the two men rely on each other to withstand the trauma of living life behind bars. It's the type of friendship rarely seen in Hollywood.
Typically, when a movie features two male best friends (aka the buddy film), it's either an action or comedy. Rare is the drama that examines the true makeup of a strong male relationship. It took a nearly impenetrable monstrosity like Shawshank Prison and the span of three decades for an audience to fully dissect the layers of its male protagonist's relationship. According to Robbins, it's one of the reasons the movie strikes a chord with so many people. In a 2019 interview with Entertainment Weekly, Robbins discussed Andy and Red's relationship. The actor said:
"There are very, very few films that are about the relationship, the friendship between two men that doesn't involve car chases or being charming with the ladies and those kinds of buddy movies. This one is about a true, deep friendship that lasts. And part of me thinks that people want or need that kind of story to be told."
Beyond Andy and Red's friendship, Robbins waxes philosophical when it comes to the impact of "The Shawshank Redemption" on audiences.
Finding hope where none exists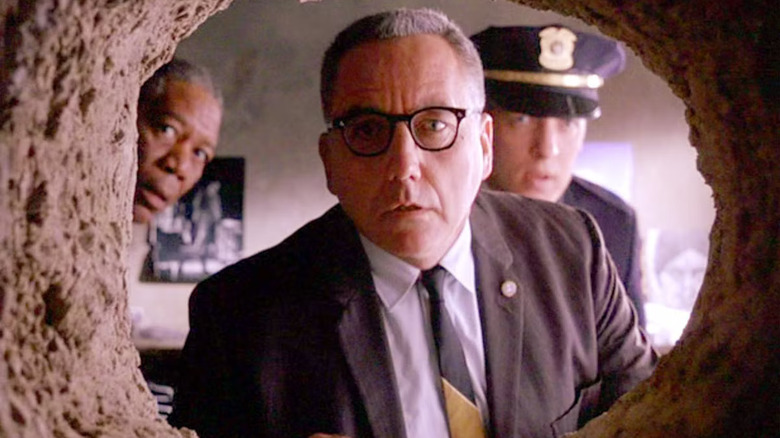 Columbia Pictures
On the surface, "The Shawshank Redemption" is a bleak movie. It is dark, almost devoid of color. It only brightens in tone and contrast during the film's few moments of respite for the prisoners. But the overall theme of the movie is anything but bleak. Andy Dufresne works as hard at remaining hopeful during his sentence as he does tunneling through the prison walls. Robbins believes that it's something everyone can relate to. As he said to Entertainment Weekly:
"I think it's a film that is about hope, and about transcending whatever challenges or obstacles are in your life to become a better person ... Overcoming trauma, overcoming past traumatic experiences, all of these things are things that factor into what eventually is a lack of freedom in our own lives. And something about ['The Shawshank Redemption'] talks about freedom as being something that is inside of us, and that with the proper approach to life, regardless of your circumstances, freedom is possible."
It took some time for "The Shawshank Redemption" to be fully appreciated. The title, which was already pared down from the lengthy novella title, didn't do it any favors at the box office. The film only grossed just over $16 million during its initial theatrical run. And it was 0-6 in Oscar bids, losing thrice to the 13-time nominated "Forrest Gump." But the movie has since found its own redemption. "The Shawshank Redemption" perpetually sits atop IMDB's user-ranked most popular films list. More prestigiously (and in a bit of revenge), the movie was ranked four spots ahead of "Forrest Gump" on AFI's most recent list of 100 Greatest Films.
Morgan Freeman said it best (doesn't he always?). All it took was pressure and time.