50 Cent Is Developing An 8 Mile TV Show Based On Eminem's 2002 Movie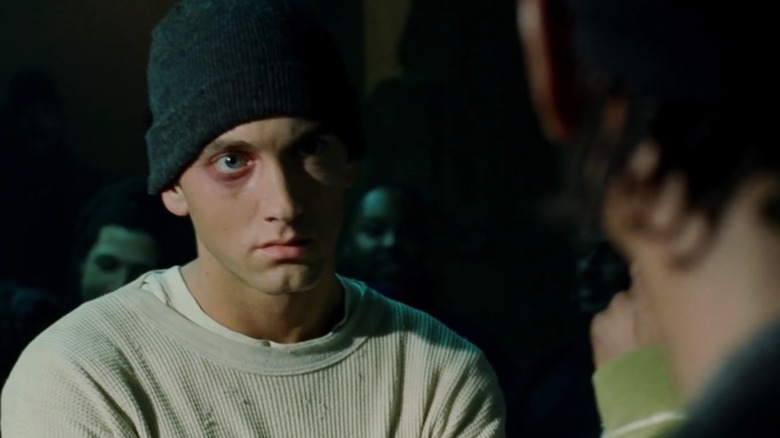 Universal Pictures
Grab a dress to wear over your jeans and throw on Now That's What I Call Music, because 2002 is back. If you want to know what's coming next in Hollywood lately, apparently your best bet is to look back at the Academy Awards nominees from about two decades ago. On Friday, news broke that Ridley Scott's "Gladiator" sequel is really happening with Paul Mescal in the lead. Also yesterday, rapper, actor, and producer 50 Cent shared his plan to bring "8 Mile" to a new generation with a TV show. The announcement came during an interview that 50 Cent, also known as Curtis Jackson III, did with Big Boy for Big Boy TV (via Complex).
Details about the upcoming "8 Mile" series, including where we'll be able to catch it, were not immediately available, but Cent assured Big Boy that it's in progress. "I'm gonna bring '8 Mile' to television," he revealed. "We're in motion." The artist also confirmed that Eminem, whose own life loosely formed the basis for the Best Original Song-winning drama he starred in back in 2002, knows about the project. "I think it should be there for his legacy," Cent added.
The artist also shared some details about his vision for the series, calling it "a modern version" of the story and comparing it to "Bel-Air," Peacock's dramatic take on "The Fresh Prince of Bel-Air." As a series, "8 Mile" would obviously need more material to sustain itself than a 111-minute movie, but it sounds like Cent has a plan for that. "I want to be able to show and offer a lot more details," he explained, citing "things that you would say in an interview or different things that you've already used that you put out there" as material for the show.
A Snoop Dogg show may also still be in the works
Universal Pictures
In the original "8 Mile," Eminem, AKA Marshall Mathers III, played a fictionalized version of himself named Jimmy who went by the stage name B-Rabbit. The late Brittany Murphy played his love interest, while Kim Basinger and Mekhi Phifer co-starred. The movie also featured Michael Shannon, Anthony Mackie, and Taryn Manning in some of their earliest roles. "8 Mile" was both a critical and commercial success at its time of release, making $242 million at the global box office and winning an Oscar for the classic Eminem song "Lose Yourself."
Cent also spoke about the importance of an "8 Mile" series in relation to opening up hip hop to a new audience, referencing Steve Stoute's hip-hop economics book "The Tanning of America" and saying, "If they see someone who's accepted and respected on the whole, it makes them a part of it also." The artist adds, "Then you start to have — you see the new artists. New guys pop out all the time, talented." To that end, 50 Cent says he's also working on a show about Snoop Dogg, although he says "we paused on it" after he had some issues with Starz. In a tweet from last April reported on by Complex, the rapper-producer revealed the show titled "Murder Was The Case" was no longer in production at Starz, saying, "I give them the alley-oop, they drop the ball."
50 Cent has produced and developed the hit Starz series "Power" and its spinoffs, along with "Hip Hop Homicides," "The Oath," and more. It sounds like the "8 Mile" series is on track, so hopefully we'll hear more about it soon. "I'm working," Cent reassured the folks at Big Boy TV. "I ain't got no duds."