Val Kilmer's Formal Theater Training Got In The Way Of Having Fun In Top Secret!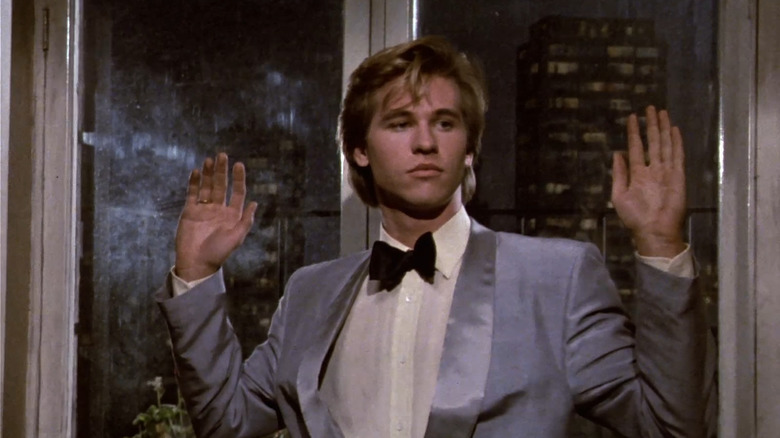 Paramount Pictures
If you've never seen the 1984 comedy "Top Secret!" (and if not, you should remedy that immediately), it's a film that pulls double-duty as both a spoof of spy movies and Elvis Presley. The comedy in the film is equal parts broad, clever, slapstick, and dumb, as you might expect from Jim Abrahams and the Zucker brothers, David and Jerry, who previously unleashed "Airplane!" on the world. And as you might also expect, it's also uproariously funny. But the film is most memorable for introducing audiences to Val Kilmer, who turns in a star-making performance as Nick Rivers — a rock and roll heartthrob who gets pulled into the world of international espionage and intrigue.
Given Kilmer's reputation as a serious actor, thanks to stellar turns in movies like "Tombstone," "The Doors," and "Heat," it's easy to forget that his earliest work on the big screen was in the comedy genre. Between "Top Secret!" and "Real Genius," he could have easily continued down the path of being one of the best and funniest leading men in cinema. But that's a far cry from where he started, as the Juilliard-trained actor came from the world of theater. 
With his background as a stage actor, and coming from the most prestigious performing arts school in the United States, it probably won't come as a surprise that settling into the goofy world of screwball comedy didn't exactly come naturally. Being silly is a prerequisite on the set of a Zucker and Abrahams movie — especially one that even has a song called "How Silly Can You Get." But as Kilmer has admitted, that wasn't really his style. At least, not at first.
Val had to learn how to just have fun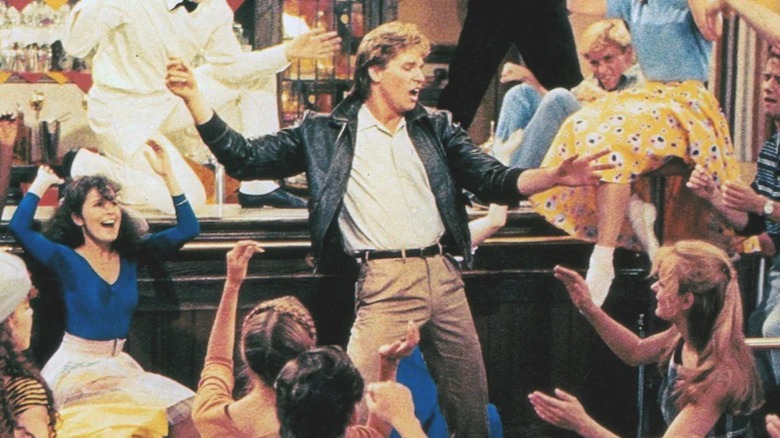 Paramount Pictures
Now obviously, Kilmer's not the first serious actor to pop in a big comedy performance. Abrahams and the Zuckers had already proven that the straighter an actor plays their material, the funnier it is. Such was the case with Leslie Nielsen and Robert Stack in "Airplane!" But Kilmer was only 24 at the time he made "Top Secret!" and devoted to the craft. He'd most recently been doing Shakespeare, so cutting loose wasn't second nature just yet. As Kilmer told ScreenCrush in a 2014 oral history celebrating the movie's 30-year anniversary:
"My acting training is formal and I was fresh out of Hamlet-land and the Juilliard School. The boys always wanted me to have more fun, but I wanted to be good and I took it all way too seriously."
Ultimately, the actor learned how to embrace the zaniness of movies like "Top Secret!" and, as recently as 2010, Christopher Nolan favorite "MacGruber." All he had to do was learn how to actually have a good time on set. As he told ScreenCrush, "Message to young actors: When your bosses tell you to have more fun, believe them and do it. It doesn't happen that often!"
Unfortunately, we'll probably never get to see Kilmer's comedy chops on display again due to his ongoing battle with throat cancer. Over the last year, fans have started to realize just how much they miss seeing him on screen, as evidenced by his small role in "Top Gun: Maverick" and looming presence on the Disney+ series "Willow," with hopes that he might eventually make an appearance. Whatever comes next, it's hard not to hold out a small sliver of hope that we'll see just how silly he can get at least one more time.