James Cameron Wanted Avatar: The Way Of Water To 'Take The Boundaries Off' Female Empowerment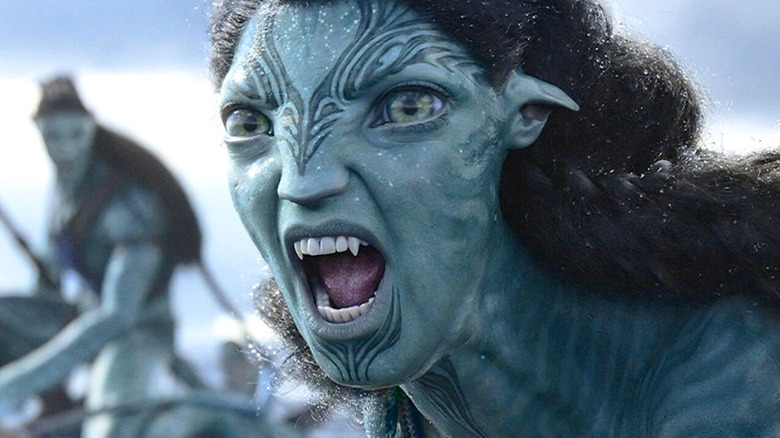 20th Century Studios
In 2009, "Avatar" became the biggest box office movie of all time, and now it looks like James Cameron's sequel, "Avatar: The Way of Water" is picking up where the original left off, having just crossed $1.5 billion globally. That fact is a ringing global endorsement for a franchise that has been accused in the past of having very little cultural impact. It also means that people are responding to the strong female characters in the film.
Ideally, the extra attention being paid to highlighting fully-realized characters like Neytiri (Zoe Saldaña) and Ronal (Kate Winslet), the matriarch of the Metkayina clan, won't be necessary for much longer. Inspiration can come from anyone. In a perfect world, like the one the Na'vi are trying to protect, there would hopefully be less need to applaud and single out a warrior just for protecting her home world, like the other tribesmen. 
Inevitably, the battles in life usually come at the most inopportune times. In a pivotal scene in "The Way of Water," a pregnant Ronal scoffs at the idea that she won't fight because of her baby; she's fighting for that baby. In a conversation between Robert Rodriguez and Cameron as a part of Variety's "Directors on Directors" series, Rodriguez also pointed out how taken he was by Neytiri, who is shown hunting while pregnant. 
Cameron's response almost seems like he's grown a little tired of addressing the issue, at first. "Everybody's always talking about female empowerment," he said. "But what is such a big part of a woman's life that we, as men, don't experience? And I thought, 'Well, if you're really going to go all the way down the rabbit hole of female empowerment, let's have a female warrior who's six months pregnant in battle.'" But is that really the ultimate show of strength for women?
'Let's take the real boundaries off'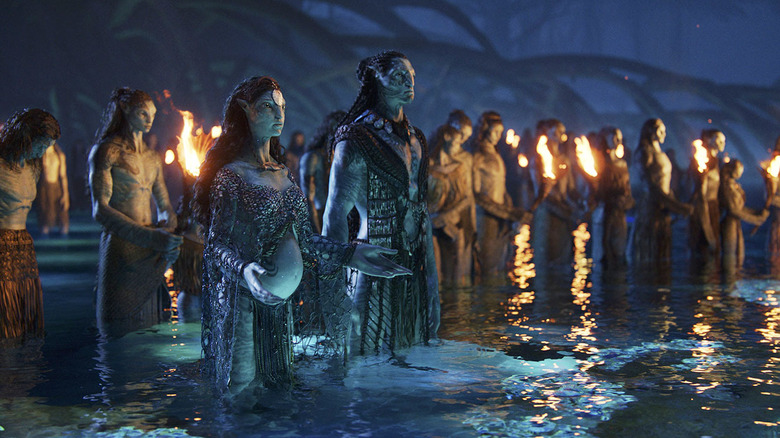 20th Century Studios
Taking place a decade later, "Avatar: The Way of Water" is more about family than it is about the war between the Na'vi and the human invaders. So, sure, it makes good storytelling sense to show the cycle of life taking place among the blue and aqua-skinned aliens on the distant moon of Pandora. In Cameron's sequel, the culture is more fleshed-out and believable because we're introduced to the babies, teenagers, and adults that inhabit the world. Cameron is probably overstepping in his comments, appearing a little tone-deaf when it comes to what makes women strong and powerful, telling Rodriguez during their Variety talk:
"It doesn't happen in our society, probably hasn't happened for hundreds of years. But I guarantee you, back in the day, women had to fight for survival and protect their children, and it didn't matter if they were pregnant. And pregnant women are more capable of being a lot more athletic than we, as a culture, acknowledge. I thought, 'Let's take the real boundaries off.'"
Cameron is too enamored with his own characters that he deems them complex just because they're able to tackle motherhood and wartime, simultaneously.
A false and outdated myth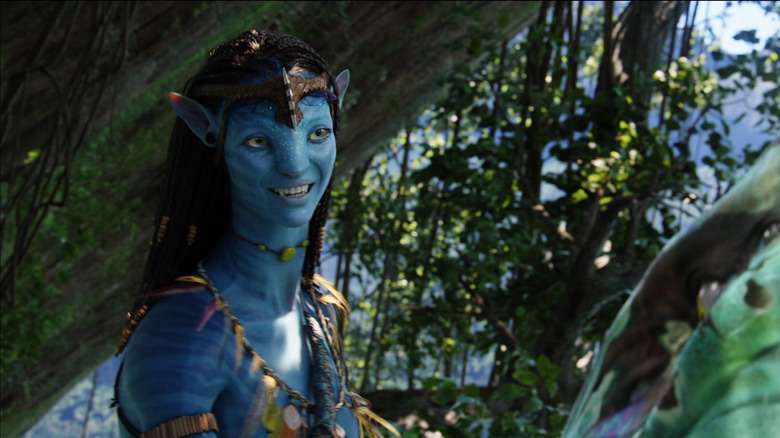 20th Century Studios
Perhaps if he keeps insisting on talking about the inherent strength of his female characters, Cameron should leave it to the actors that actually played the characters of Neytiri and Ronal to speak on the issue. Kate Winslet seems to echo the sentiment, telling Entertainment Weekly, "I don't know a single pregnant woman who found out she was pregnant, sat down, and did nothing. You just become kind of bionic. You feel like you are absolutely superhuman."
In a high-octane sci-fi fantasy blockbuster like "Avatar: The Way of Water," that depiction may be inspirational to some. But, in reality, the process and experience of pregnancy is often a difficult, arduous task that doesn't always need to be idealized or romanticized. The false myth that women are strongest when they are also mothers doesn't need to be perpetuated. Who knows? Maybe that was true hundreds of years ago. But it's not true now.