Evil Dead Rise Looks Like The Perfect Combination Of The Original And The Remake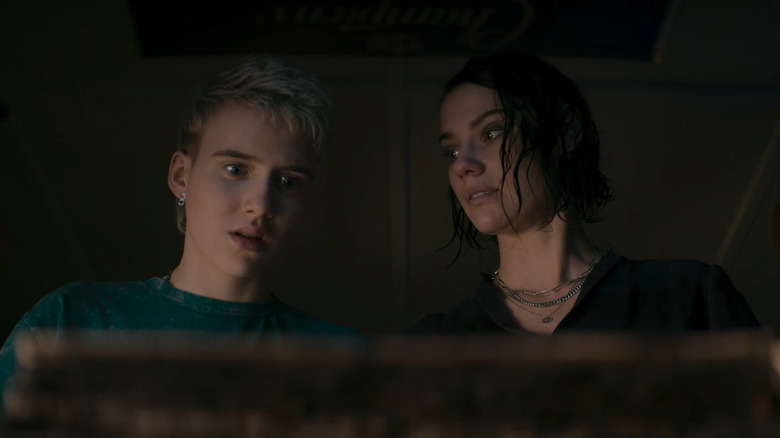 Warner Bros.
Rejoice, "Evil Dead" fans, as the first trailer for the highly anticipated "Evil Dead Rise" has hit the web. This series has never missed the mark, which puts a lot of pressure on "The Hole in the Ground" director Lee Cronin to get it right.
It can be difficult for some horror folk to accept new blood stepping into the shoes of a franchise that had been defined by a creative team for so long, but "Evil Dead" has proved that it can sustain itself. For over 30 years, director Sam Raimi, producer Robert Tapert, and the very groovy Chin himself, Bruce Campbell, were the DNA behind one of the most influential horror films of all time. The trio returned with over three excellent seasons of the television series "Ash vs. Evil Dead," but in the meantime, "Don't Breathe" director Fede Álvarez blessed us with his 2013 reimagining of the original, which I consider one of the greatest horror remakes ever made. It was actually my personal introduction to the world of "Evil Dead," and I've been on board ever since.
Despite Campbell's absence in front of the camera, he's made it explicitly clear that he's not only a behind-the-scenes contributor but that "Evil Dead Rise" is "the scariest one yet." Going off of what I see here, this entry looks like a gloriously gory good time that pays tribute to the effects-driven madness of the evil cabin in the woods classic, while paving its own path.
Deadly serious gore with some demented laughs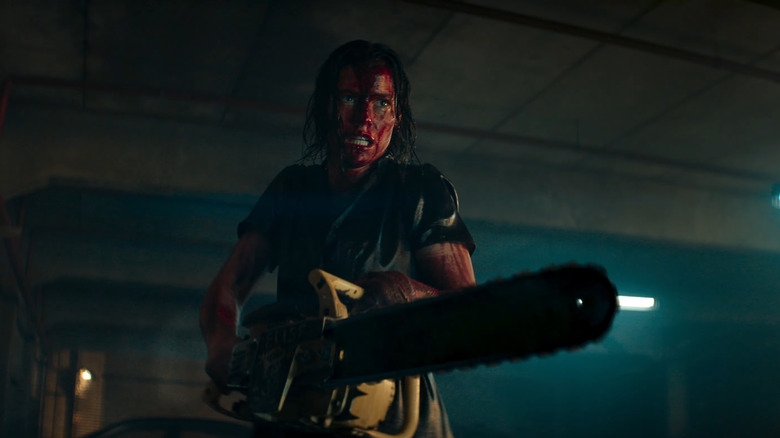 Warner Bros.
"The Evil Dead" is still a show-stopper of a splatter film that doesn't quite match the series' more famous all-out horror comedy DNA from "Evil Dead 2." Where Raimi's film comes up short in terms of scares, Álvarez brings its intentions to terrifying fruition in "Evil Dead" with a burning intensity. Enter "Evil Dead Rise," which looks like it will capture the tense yet playful spirit of the 1981 original while leaning into the darker spirit of the 2013 remake.
The ruthless new trailer indicates that, in addition to the good stuff we've come to expect from these movies, "Evil Dead Rise" is going to provide a disturbing mirror of the fears and anxieties that come with being a parent. Álvarez's film attempted a similar personal reckoning, as Mia (Jane Levy) comes into contact with the Deadites in the midst of trying to detox off of heroin.
The children here are going to see their mother, Ellie (Alyssa Sutherland), brutalize people by means of needles and cheese graters, in addition to their aunt, Beth (Lily Sullivan) wielding a bloody chainsaw. But at the same time, the few jabs at humor indicate that's not going to be all gloomy. It looks like Deadite Ellie has a sly sense of humor too, giving the impression that a kiss from her daughter is all the cure she needs. Of course, she says this while standing in front of the door covered in blood, with a haunting grimace on her face.
If this is just what they're showing us now, then I can't wait to see what else this long-awaited sequel has in store for us.
"Evil Dead Rise" is set to hit theaters on April 21, 2023.