Casting John Wayne In Red River Saved Howard Hawks From A Behind-The-Scenes Crisis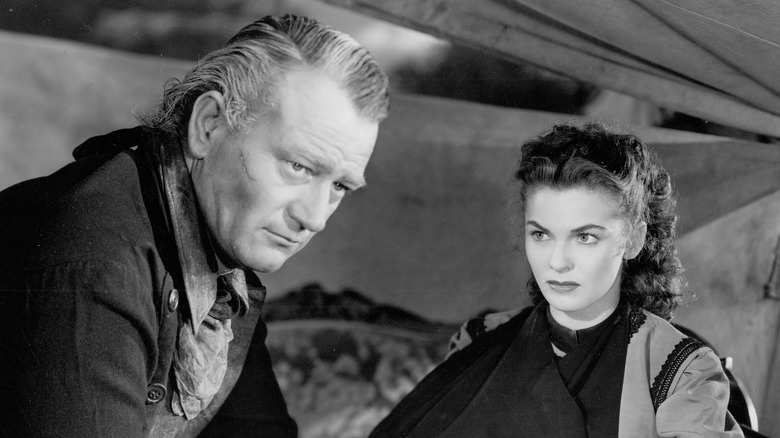 United Artists
By 1948, Howard Hawks had made just about every type of film over his then 22-year career when he decided to take on the most American of movie genres: the Western. Though he'd made plenty of films about rough and/or ruthless men (e.g. "Scarface," "Only Angels Have Wings" and "The Big Sleep"), the closest he'd come to making a true oater was with 1934's "Barbary Coast," which plays like more of a period crime film set in mid-1850s San Francisco. "Red River," written by Borden Chase and Charles Schnee (based on Chase's serialized novel "The Chisholm Trail"), would be the real deal.
And it almost fell apart before Hawks shot a frame of film.
While the story about Tom Dunson, a determined rancher who turns into a horse-riding Captain Ahab during a harrowing cattle drive from Texas to Missouri, was crammed with action and intrigue, it proved tonally problematic for Hawks' star. Gary Cooper had made several films with Hawks and many Westerns prior to "Red River," but he balked at portraying a cowboy who kills in cold blood and pledges to murder his own adopted son. Meanwhile, Cary Grant, who Hawks favored for the role of hired gun Cherry Valance, refused to sign on unless his part in the drama was expanded.
With the production start date approaching, Hawks realized he had to move on from the two A-listers. The next logical move for a filmmaker of his stature was to approach the leading man who'd helped transform the genre with John Ford in "Stagecoach." John Wayne was available. Barely. But he was not a fan of Hawks' approach to the movie, and requested a number of changes before committing.
John Wayne doubled the budget of Red River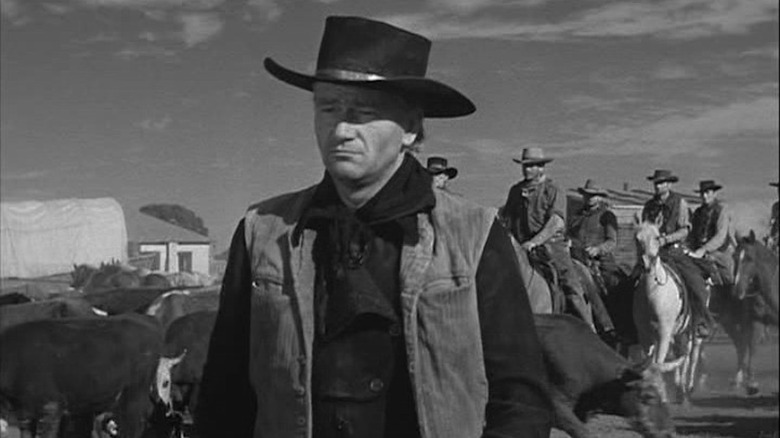 United Artists
According to Maurice Zolotow's biography "John Wayne: Shooting Star," Hawks had unusual ambitions for "Red River." One of his most interesting ideas was to surround the principal characters with real-life cowboys. This approach had much in common with the Italian neorealist classics being cranked out by the likes of Roberto Rossellini, Vittorio De Sica and Luchino Visconti, and it held absolutely zero appeal for Wayne.
The first hurdle to clear was fitting Wayne's salary into the movie's $1.5 million budget. Per Zolotow, the Duke told Hawks and producer Charlie Feldman they'd have to hit up United Artists for more money if they hoped to make a quality Western on his terms:
"They had a budget of just under a million and a half. My own salary was a hundred and fifty thousand and a percentage. I told them, if they can't get United Artists to spend at least two million five, they would never make this picture – they were thinkin' in terms of a blockbuster, you see. Actually 'Red River' cost three million and it grossed about ten."
Then Wayne addressed Hawks desire to cast amateurs. The star knew his way around making Westerns, and told them this was totally unfeasible:
"The next thing I said after I straightened them out on the budget was about these Arizona cowboys. No dice. Absolutely no amateurs. I told them flat out, I don't go in on this deal unless you get some professional western actors and a dozen trained western stuntmen."
Wayne and Hawks hit it off (and make more hits together)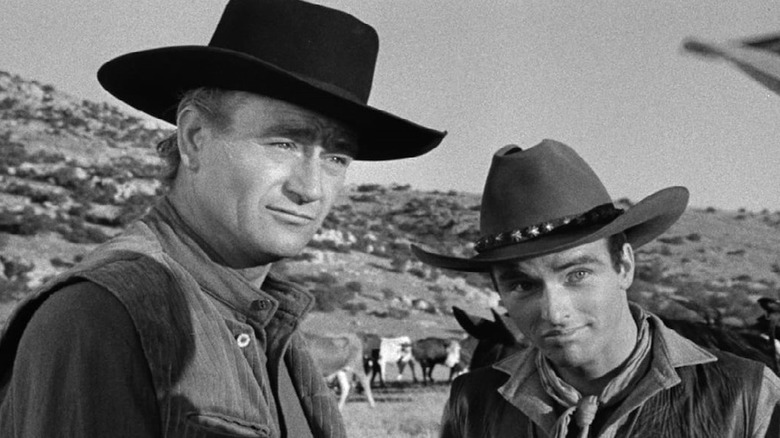 United Artists
Wayne might've gotten his way, but, surprisingly, he was okay with Dunson getting booted from the drive by his son, Matt (a young Montgomery Clift, who was one of the first method actors to break through in Hollywood). Though he did have ideas on how his ousting should play, the Duke didn't flinch from playing Dunson as a bit of a madman. This is a preview of the racist Ethan Edwards in Ford's "The Searchers," and it's a little terrifying at times.
Alongside "Fort Apache" and "3 Godfathers," "Red River" helped to make 1948 a phenomenal year for Wayne. People began taking him seriously as an actor, which paid off the following year with his first Academy Award nomination for Best Actor (in "Sands of Iwo Jima," though he was far more impressive in that year's "She Wore a Yellow Ribbon").
As for Hawks, he was on firm footing as a director of Westerns and Wayne. He'd go on to make three more oaters with the Duke (including the all-timer "Rio Bravo"), and the utterly goofy safari adventure "Hatari!" But they'd never again make anything quite as antiheroic as "Red River." From this point forward, when the Duke wanted to futz with his persona, he mostly went to Ford.