How The Monkees TV Show Influenced Jackie Chan Adventures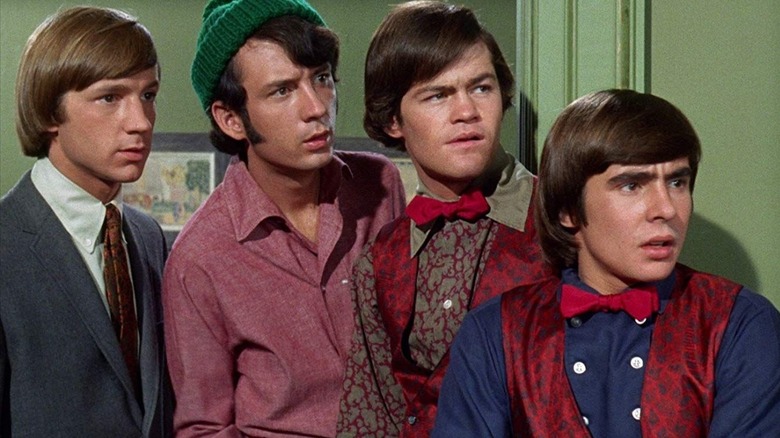 Sony Pictures Television
The story of the Monkees is well known to any fan of 1960s pop music. Producers Bob Rafelson and Bert Schneider, inspired by the freewheeling antics they witnessed in Richard Lester's celebrated 1964 Beatles film "A Hard Day's Night," wanted to capture a similar energy on the small screen. Widespread auditions were held to form a new band that possessed musical talent, but, more importantly, screen chemistry and maybe some acting acumen. The production team was lucky to land one Micky Dolenz, a former child star who appeared on the long-forgotten sitcom "Circus Boy." Davy Jones and Mike Nesmith followed. Peter Tork was suggested by his friend Stephen Stills (he of Crosby, Stills, and Nash). While the Monkees did not form organically, they did have chemistry, and possessed humor and acting talent that their less interesting Liverpudlian counterparts never did. Yes, it is now written. The Monkees are, in their way, more interesting than the Beatles. 
A fun piece of trivia: Nesmith's grandmother invented Liquid Paper. All of this information can be found in Andrew Sandoval's thorough and insightful 2005 biography, "The Monkees: The Day-by-Day Story of the 60s TV Pop Sensation."
The TV series "The Monkees" debuted in September 1966, nine months after the Adam West-led "Batman," the same month as the American debut of "The Avengers," and a week after "Star Trek: The Original Series." It was quite a time to be alive. The premise of the show was simple: Davy, Mike, Peter, and Micky were aspiring musicians who shared a sizable and eccentric flat in Los Angeles. Some of their misadventures were based in reality, as when each of them is smitten by Julie Newmar, while others were definitely not, as when they fought the Frodis Monster, a creature made of marijuana. Yes, really. 
And the Monkees influenced a '00s Jackie Chan animated series how?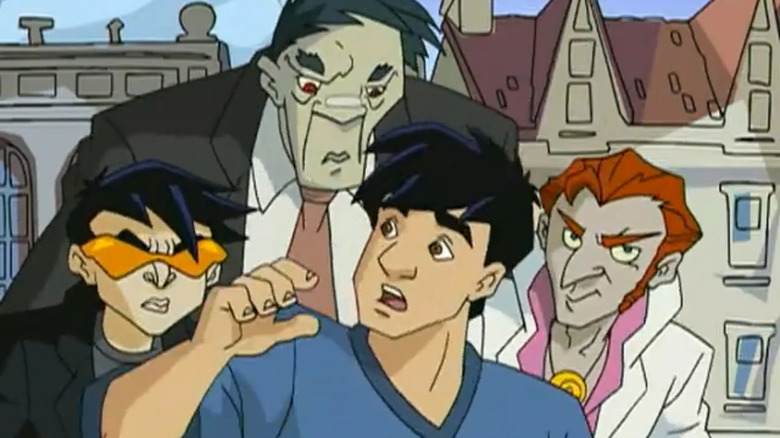 Sony Pictures Television
There is a connection here. Bear with me.
34 years later, Kids' WB debuted an animated series called "Jackie Chan Adventures," a fantasy show wherein Chan (James Sie) would do battle with evil sorcerers, demons, and other supernatural creatures that were still thriving in the modern world. This version of Jackie Chan wasn't a movie star, but a freelance archaeologist along the lines of Indiana Jones. The series played with Chan's persona, and only occasionally made reference to Chan's many real-life feature films. Animated Jackie Chan would be assisted by (fictional) members of his own family, including Jade Chan (Stacie Chan, no relation), and his bitter Uncle (Sab Shimono). Other celebrities would pop in from time to time, including James Hong and Julian Sands. 
Most significantly, Chan himself would appear at the end of every episode, in live-action, to answer viewer mail and talk about martial arts. It was this last portion that show co-creator Jeff Kline enjoyed the most ... because it reminded him of "The Monkees." 
In a 20th-anniversary retrospective on "Jackie Chan Adventures," published in the pages of SyFy in 2020, Kline talked about filming those sequences and how they related directly to certain portions of his favorite TV shows from the 1960s. In his words:
"At the end of every episode, they used to do a live-action Q&A with Davey, Mickey, Mike, and Peter, and I used to love that part [...] It was a way of seeing them off-script, just being themselves, so it grew out of what 'The Monkees' did, so that we could give the audience more Jackie."
Jackie and Jackie vs. Mike and Frank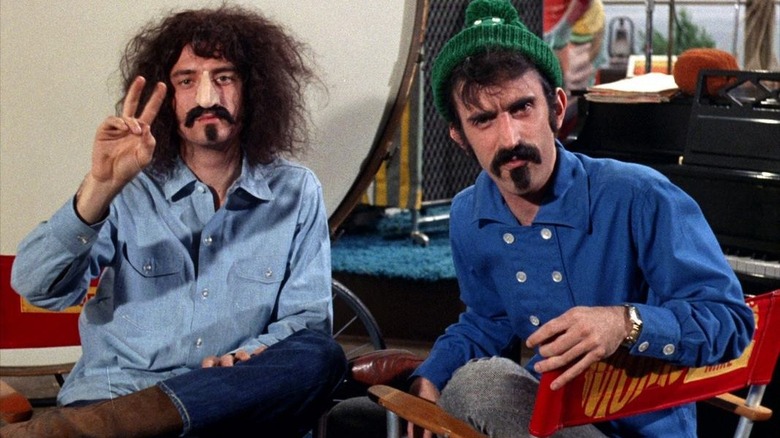 Sony Pictures Television
Sander Schwartz, who was head of Sony Television's kid entertainment department at the time, was also very positive on the live-action Jackie Chan segments, noting that the superstar enjoyed doing it. Schwartz said that Jackie took to it right away: "I think it helped make the show more relatable to kids, and it let them connect more closely to Jackie the artist." Kids in the United States would likely have known Chan for his then-recent American fare like "Rush Hour" and "Shanghai Noon." The live-action scenes in "Jackie Chan Adventures" communicated to a young audience that Chan had a long and storied career before they met him in animated form, and that Hong Kong martial arts cinema was something worth looking into.
The function of the post-show interview was meant to be similar on "The Monkees," as it would allow audiences to see Mike, Davy, Micky, and Peter out of character. The interviews weren't a regular portion of "The Monkees," and were often included, it seems, to pad out an episode's runtime should the story not fit into the allotted 30 minutes. After the episode "Fairy Tale" (January 8, 1968) — an episode set in a fantasy kingdom — a brief modern-day kibbitz was included to assure readers that the premise of "The Monkees" had not changed. In one of the show's more notable interviews, Nesmith and Frank Zappa interviewed each other ... dressed as one another. 
The key difference between "Adventures" and "The Monkees," though, is that the animated Jackie Chan and the live-action Jackie Chan were quite the opposite, whereas the Monkees were more or less themselves when "in character" on the show. The interviews, then, weren't so different from the rest of the series.