Bob Odenkirk Hadn't Seen A Full Breaking Bad Episode Before Stepping Onto Set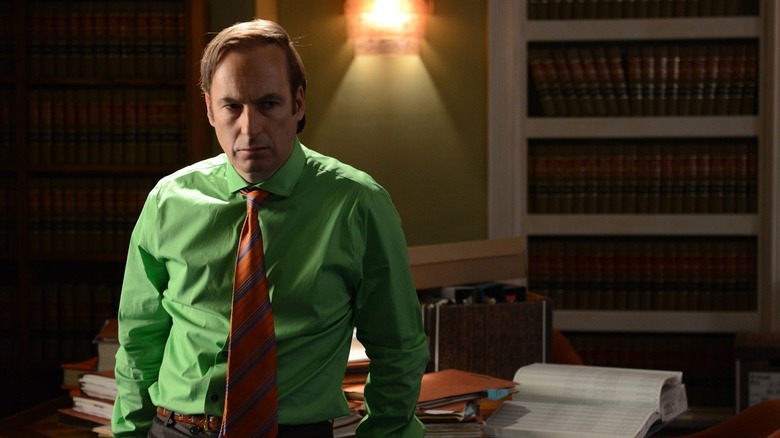 AMC
Life may seem bleak sometimes, but it's important to remember how lucky we all are. For example, we're all blessed enough to be alive and consuming media during what I am hereby dubbing "The Odenkirkaissance" (if anybody has an idea for a better name, you can let me know). Bob Odenkirk, a man formerly best known for his work as a sketch comedian on the alternative comedy series, "Mr. Show with Bob and David," has spent the past few years reinventing himself as a serious actor. Starring in everything from the "John Wick" clone, "Nobody," to the Steven Spielberg-directed "The Post," to Greta Gerwig's adaptation of "Little Women," Odenkirk has proven himself to have a range as a performer that nobody had any idea he possessed.
The event that served as the catalyst for Odenkirk's radical career transformation was his casting in the beloved AMC drama, "Breaking Bad" as the hilariously crooked lawyer, Saul Goodman. Odenkirk, who was experiencing financial hardship prior to being offered the role, would accept immediately, and quickly become one of the best parts of an already fantastic show. The role would propel Odenkirk into starring in the "Breaking Bad" spin-off prequel series, "Better Call Saul," where he really got to flex his dramatic acting muscles and show that he could add depth to even a seemingly shallow character.
While Odenkirk has "Breaking Bad" to thank for his career resurgence, he actually had barely ever seen the show before beginning work on it. According to a New York Times profile on Odenkirk from earlier this year, he was able to slip right into the role despite his lack of exposure to the show, a testament to his acting ability.
He gets it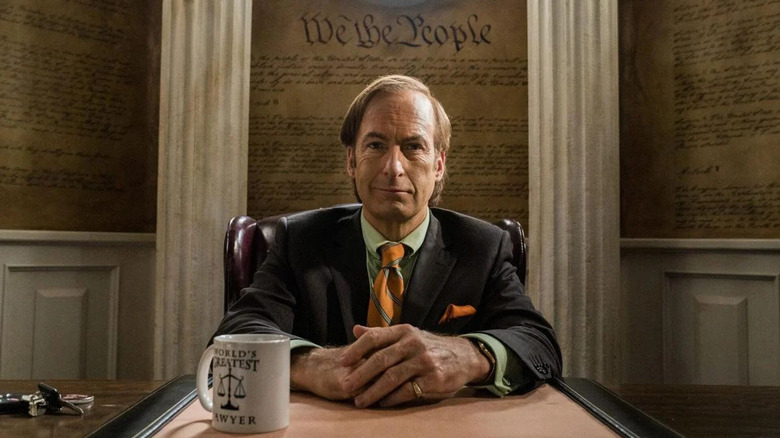 AMC
While "Breaking Bad" would provide Odenkirk with a path to dramatic stardom, his role on the show was not necessarily a particularly meaty one. Saul Goodman in "Breaking Bad" was a relatively one-dimensional conman, more memorable for his quips and one-liners than his depth of character. While, down the line, he would have a few dramatic scenes, it was a role that one could imagine someone with a comedic background, like Odenkirk, easily stepping into.
And according to Odenkirk in the New York Times piece, he accepted the role sight completely unseen, not having seen a second of "Breaking Bad" before jumping right in. When Odenkirk entered the series, "Breaking Bad" was not yet the ratings juggernaut it would later become, and the show was only a season deep in its five-season run. While the series' potential was clear from its very first episode, it was still young and finding itself, and Odenkirk was stepping into what was still a potentially unstable environment.
It seems like a huge risk to take, especially for someone taking on what could be their first big role after a slump in his career. But, according to Odenkirk, he didn't require any more preparation than he put in.
"I didn't even watch a whole episode, but I didn't need to, I got it."
As anybody who's seen Odenkirk's electric performance as Saul Goodman/Jimmy McGill would agree, Odenkirk certainly did just get it.
A life-changing role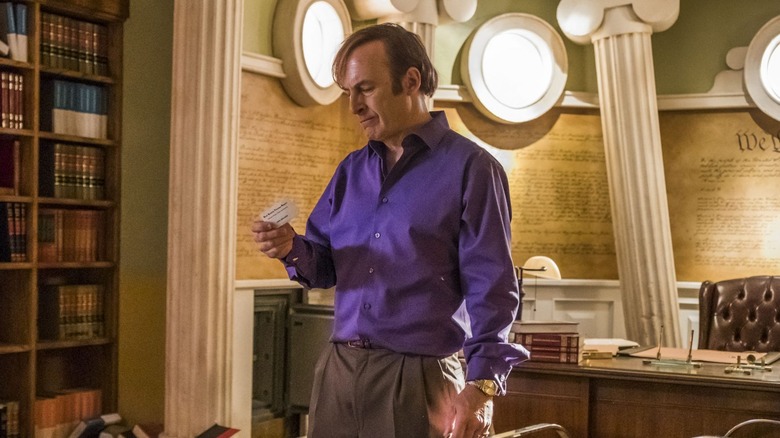 AMC
Bob Odenkirk perfectly embodied the Saul Goodman character from his first appearance on screen. Not only did he nail Saul's more comedic moments, delivering his lines with a mischievous smile and excellent timing, but he was able to add layers of depth to what was, on paper, a static character.
In moments, Odenkirk was able to make a character who was, by all means, greedy, selfish, and cowardly, into a likable figure, a great challenge. It was probably the surprising depth of his "Breaking Bad" performance that inspired series creators Vince Gilligan and Peter Gould to take a chance on Odenkirk, making him the centerpiece of their spin-off series. It was a big risk, as many fans were skeptical that a comic relief character like Saul Goodman could carry an entire series of his own. But once again, Odenkirk knocked it out of the park, showing audiences just how much dramatic talent he had hidden beneath his comedic exterior.
While "Better Call Saul" never reached the ratings highs of its predecessor, the series, as well as Odenkirk's portrayal of Jimmy McGill, was widely acclaimed, so much that there was widespread internet outrage over his not being nominated for an Emmy following the final season of the show.
Bob Odenkirk's career was completely transformed when he took the role on "Breaking Bad." He may not have known it, and based on the amount of research he put in I'd say he didn't, but it was the role with which he would prove to the world what he was capable of. Sometimes, things just click and are perfect. Bob Odenkirk as Saul Goodman was a perfect role.