Pitch Perfect: Bumper In Berlin Review: A Sweet Continuation Of The Pitch Perfect Universe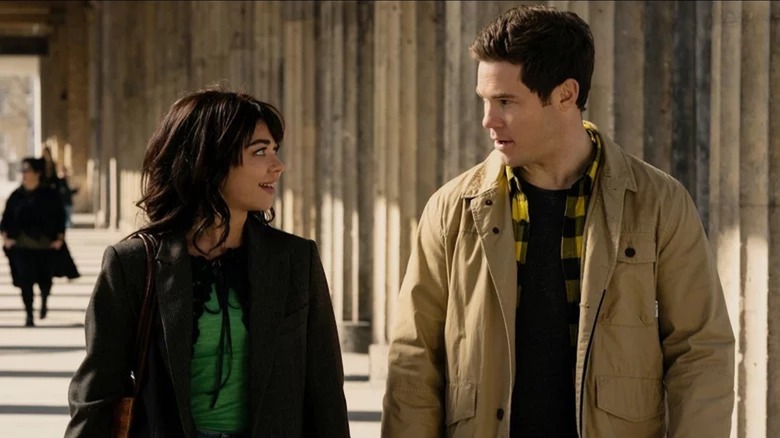 Peacock
Warm up those vocal cords and get your cups ready, because everyone's favorite acapella franchise is back! "Pitch Perfect" captured the hearts and ears of a generation, following the Barden Bellas, a university acapella group with dreams of taking over the world through song. The film trilogy was a glorious story of female friendship in equal parts heartfelt emotion and gross-out humor. While the films weren't all equal in quality (sorry "Pitch Perfect 3") the music was always excellent, carrying on the legacy of "Glee" (while playfully making fun of it) by making acapella music far cooler than it has any right to be.
With "Pitch Perfect 3" ending the trilogy back in 2017, it feels like the perfect time to catch up with beloved characters from the Barden Bellas like Beca (Anna Kendrick), Emily (Hailee Steinfeld), Chloe (Brittany Snow), and Fat Amy (Rebel Wilson). Strangely, "Pitch Perfect: Bumper in Berlin" doesn't have any of those people, not even in a brief cameo appearance. As a big fan of the "Pitch Perfect" movies, I was thrilled to hear that the world I fell in love with was coming back, and I couldn't wait to see what my favorite characters were up to, especially the enteral firecracker that is Amy.
Peacock's new TV series "Pitch Perfect: Bumper in Berlin" decides to follow somebody completely different — Bumper Allen (Adam Devine) from a rival all-male Barden University acapella group. Quite possibly the most in-your-face, obnoxious character in the franchise, at first glance giving the reigns to Bumper of all people seems incredibly suspect. There's really no easy way to put it, but Bumper was a real dick in the movies. Why on earth would you pick him when there are so many other gems in the franchise to pick from? That said, he's certainly a talented artist, plus he dated Amy, and if someone as wonderful as Amy can be into Bumper, maybe I can too.
"Bumper in Berlin" opens with an electric performance of Ava Max's "Kings & Queens," performed by Bumper and the Tonehangers, an older acapella group seen in the films. Bumper never left the halls of Barden, working as a security guard so he can access the auditorium to keep his dream of being a superstar alive. That dream appears to be more tragic than achievable, and even his group is turning on him, urging him to move on from Barden and get immersed in the real world.
Never one to give up, Bumper has turned to TikTok, where his mashup (a "Pitch Perfect" staple) of "99 Luftballons" and "Take On Me" has amassed over seven million views ("That's like a million views!" Bumper remarks). Most importantly, the video has caught the attention of Pieter Krämer (Flula Borg), who "Pitch Perfect" fans will remember as the lead of Das Sound Machine, a German acapella group. Pieter has left the acapella world behind and now working as a manager, wants Bumper to come to Berlin to turn things around and make him a star. For someone as keen to shine as Bumper is, there's no surprise that he jumps at the opportunity and heads straight across the pond.
When he arrives, he meets Pieter and his assistant Heidi (Sarah Hyland), a fellow American who has found herself in Germany, working alongside Pieter while trying to become an accomplished songwriter in her own time. It turns out Bumper isn't quite the celebrity that Pieter promised he was, which knocks Bumper back. Fear not, as Pieter has a plan to turn him into the star he knows he can be, which culminates in getting a spot in Berlin's Unity Day concert. A spot is available every year for an up-and-coming talent (how convenient!), and if Bumper can get there, his dreams of superstardom may finally come to fruition. He's going to need some help along the way, not only from Pieter and Heidi but from Thea (Lera Abova), a prominent Berlin music producer (and Pieter's sister). And what would a quest be without someone standing in the way? That towering presence is Gisela (Jameela Jamil), an outrageous popstar and Pieter's ex-girlfriend who wants the coveted Unity Day concert spot.
It's no Pitch Perfect, but it'll do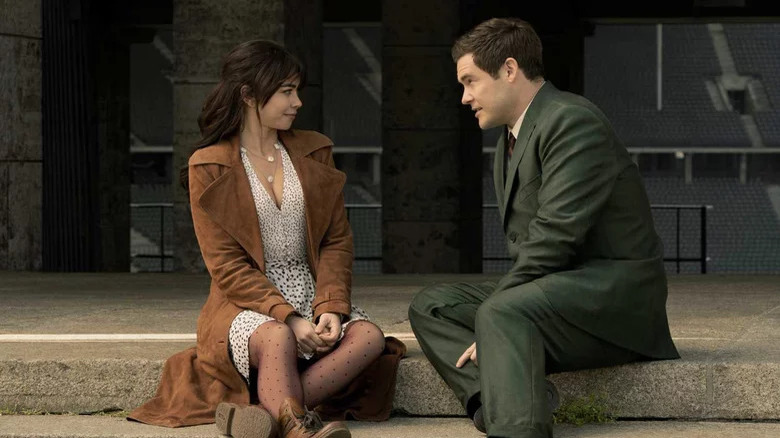 Peacock
Resting the show on Bumper's shoulders is a bold choice: He's not especially likable, and rarely considers others' feelings over his own (no wonder Amy ditched him!). It's a big task for Adam Devine to pull of humanizing the character while making him feel relatable, and thankfully he pulls it off. It's a character that's played a big role in developing Devine's star persona, and as the first episode title makes clear, he's got a face you love to slap. And sure, you may want to slap his face, but you also want to be his friend. Devine infuses Bumper with so much charisma that makes his admittedly desperate attempts to become famous feel surprisingly sweet and possible.
The additional cast is where "Pitch Perfect: Bumper in Berlin" really shines. Sarah Hyland is delightful as Heidi, and watching her come into her own and realize her impressive talents is a joy to behold. Her chemistry with Devine is powerful, and the showrunners were wise to pair them together again — previously, they played romantic partners on "Modern Family." Lera Abova does her best with what's admittedly a pretty thin character, but her increasingly outrageous line deliveries are pretty reliable for a laugh. Flula Borg is game for everything, but his character doesn't get much in terms of excitement, largely dealing with concerns of being a national disgrace and plenty of daddy issues. Towering above them all is Jameela Jamil, who is having the time of her life being camp icon Gisela. From the ridiculous German accent, over-the-top makeup and a cavalcade of bad wigs, Jamil is hysterical. Sure, it's basically her performance in "She-Hulk" again, but if this is Jamil's niche, it totally works.
While the characters are fun, and their relationships are interesting, "Bumper in Berlin" often struggles to justify its existence. The writing is predictable, every beat feels telegraphed, and they're the same stories we've seen recycled over and over again. There really isn't anything new here, and that's a shame. The Berlin location gives the show some life, and it really does seem like a thrilling place, though it mostly feels like an excuse for some easy jokes about how life is better in Europe (healthcare jokes, unemployment jokes, how fun!).
The music is what makes "Pitch Perfect" so memorable, and the songs in "Bumper in Berlin" are pretty good, even if they pale in comparison. The opening "Kings & Queens" is probably the most impressive number, but renditions of "Barbie Girl" and "Valerie" are pretty fun too. There's also a riff-off, which is the film's crowning glory, and while it's fun, it's so haphazard that it makes you long for the movies. Thankfully everyone here can sing, and the individual performances regularly impress. A big part of the plot comes around an original song, which, I have to be honest, is completely unremarkable. Everyone in the show is acting like it's Shakespearean in quality, but frankly its quite forgettable, and pales in comparison to "Flashlight," the original song from "Pitch Perfect 2." Pop culture references feel weirdly dated too, (a "Sleeping with the Enemy" reference in 2022?!) and often out of place.
Despite its issues, there's still something to root for thanks to some lovely performances and fun music. You may have seen it all before, and the show often feels like an exercise to see how many "Pitch Perfect" fans Peacock can attract. Still, at six half-hour episodes, "Bumper in Berlin" is easy, breezy, and has enough charm to make it a decent enough addition to the franchise. I don't know if you'll remember it a few days later, but you could do worse for an afternoon.
"Pitch Perfect: Bumper In Berlin" is now streaming on Peacock.