Being John Wayne's Son Didn't Make It Much Easier To Get Him In Your Film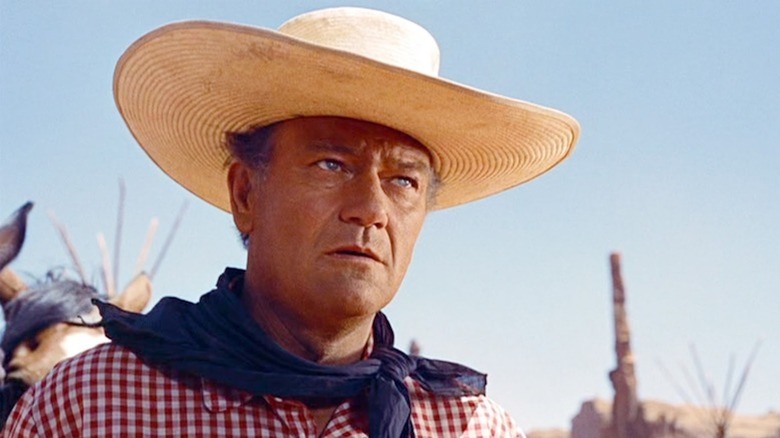 United Artists
John Wayne was one of the most dependable stars in Hollywood when he formed Wayne/Fellows Productions with producer Robert Fellows in 1952. When Fellows parted ways with the star a few years later, Wayne changed the company's name to Batjac Productions (a misspelled reference to the Batjak trading company in Edward Ludwig's "Wake of the Red Witch"). Given that just about every Wayne film was a guaranteed money maker (according to his son Mike Wayne, who ran Batjac, "He wasn't a guarantee of success, he was a guarantee against failure"), it was smart business to ensure he had a personal financial stake in the movies he top-lined.
Still, Wayne listened to offers for films developed outside of Batjac (particularly those from his longtime collaborators John Ford and Howard Hawks). This meant Mike couldn't just find any old script and expect his dad to make the movie. He had to be diligent about locating projects of quality, or the old man might just give him the heave-ho.
A company as successful as it was unpretentious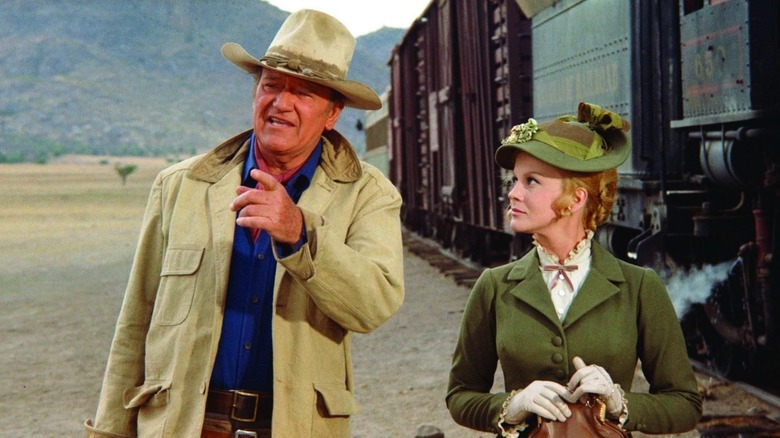 Warner Bros
In Scott Eyman's biography "John Wayne: The Life and Legend," Mike Wayne recalls there being one advantage to running Batjac. "I could get John Wayne to read a script without putting up a million-dollar offer," he said. "I was always in competition for him with other studios, but I could get a free read."
According to Mike, he knew what his father liked, and was always aware that, in the end, The Duke was in charge.
"He was used to seeing finished scripts; I would never give him anything unless it was a complete treatment or a complete script. As far as his being the boss, he was the boss on any film he was on. In movies, the most important element eventually becomes known and gets his way. Running Batjac wasn't any harder [for me] than it would have been for anyone else."
Batjac turned out 26 theatrical features between 1952 and 1974. Three of these earned Academy Award nominations ("Hondo," "The High and the Mighty" and "The Alamo"), but the movies were generally mainstream flicks with no aspirations to do anything more than entertain. In other words, they were vintage John Wayne movies, whether he starred in them or not. As Mike put it, "The fact that he was so professional made it easier, but there was never any doubt about where the muscle was. That was the good thing and the bad thing about John Wayne: he dominated everything he was associated with because of his charisma, his star energy." Thus, it's unsurprising that Batjac never made another film after The Duke's death in 1979.