Aaron Sorkin Wrote Most Of A Few Good Men On Cocktail Napkins At His Bartending Job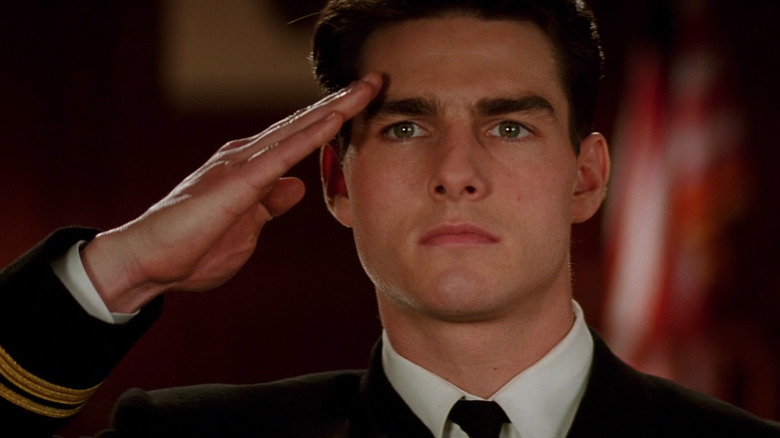 Columbia Pictures
Do you want the truth about how Aaron Sorkin wrote "A Few Good Men," the hit play that became an Oscar-nominated box office smash starring Tom Cruise and Jack Nicholson?
Well, we've got good news: You probably can handle the truth, because it's actually a very pleasant and amusing story.
Aaron Sorkin is one of the most celebrated screenwriters of his generation, having created the popular TV series "The West Wing," for which he won six Emmy Awards. He also the acclaimed motion pictures "The American President," "Moneyball," and "The Social Network," the latter of which won him an Academy Award for Best Adapted Screenplay. 
But he started his career just like so many others do in the entertainment industry: by working crap jobs. And while most of the time those crap jobs go nowhere, sometimes those crap jobs pay off.
Well, maybe not the one where he dressed up like a moose. But we'll get to that in a second.
DID YOU ORDER THE CLUB SODA?!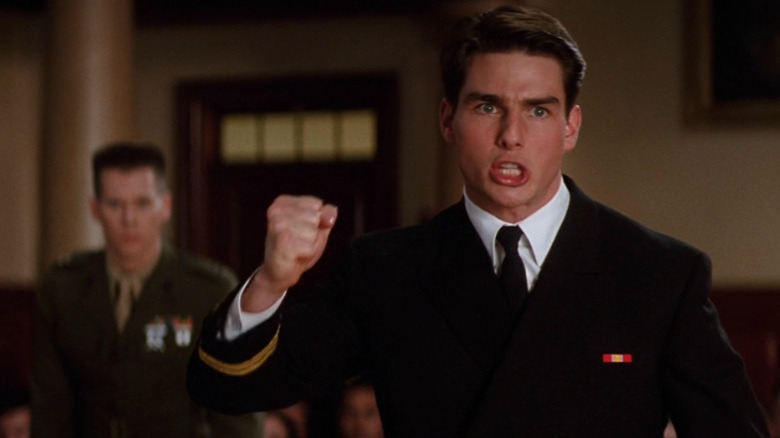 Columbia Pictures
"A Few Good Men" tells the story of a cocky Navy lawyer whose defense of two Marines, who are being court martialed for a hazing ritual that turned deadly, leads him to suspect a conspiracy is afoot and that a respected colonel is actually to blame. It's a tale that takes place behind the scenes of the most powerful military force in the world, in America and at Guantanamo Bay, and it was mostly written on napkins at a New York City bar, by a theater student just trying to get by.
"I got out of college, had a whole bunch of survival jobs," Aaron Sorkin told Vanity Fair in 2020. "I bussed tables. I drove a cab. I dressed up as a moose and passed out leaflets in Times Square. But mostly my steadiest survival job was working as a bartender in Broadway theaters."
"I wrote most of 'A Few Good Men' on cocktail napkins at the Palace Theater during the first act of 'La Cage aux Folles,'" Sorkin explained, referring to the successful musical version of the hit 1978 French comedy film, which would later be remade as the award-winning Robin Williams and Nathan Lane movie "The Birdcage."
"And what I was thinking was I can't wait till I'm done and then I can have a bunch of actor friends over to the apartment and we'll all read it. I thought that was the end of that."
Except that, absolutely, was not that.
YOU'RE GOSH DARNED RIGHT I DID!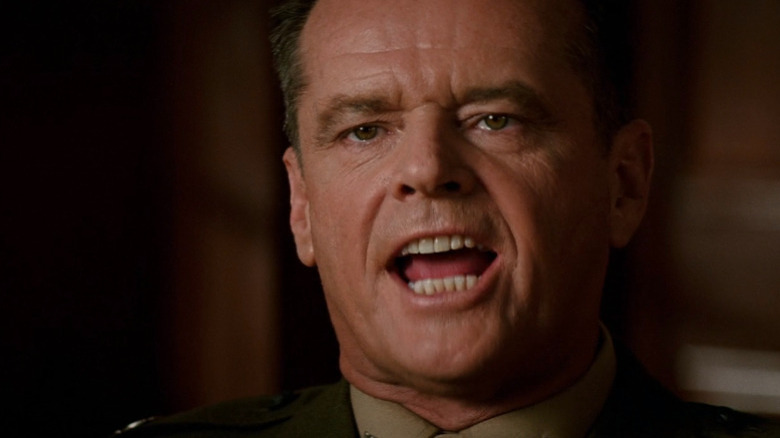 Columbia Pictures
Aaron Sorkin may not have had an actual overnight success story — very few people do — but his journey from bartender to successful playwright was unusually speedy. And that had a lot to do with his stubborn insistence on rejecting film and television jobs, and turning "A Few Good Men" into a play.
"I had taken a break to write a one-act play so that I could submit it to a one-act festival. My brand new agent, my first agent said, 'Do you have anything else?' and I said, "Well, I'm working on this full length play.' I gave it to him. He called me, he said, 'This is terrific! We're going to send this to our West Coast office and we think we can get you staffed up on a TV show," Sorkin said.
"I wasn't cocky. I guess I was just, I guess, naive. I was just about plays. So I said, 'That sounds nice, but what about doing the play?' Remember, I'm still a bartender, shrugging off a 'we think we can get you staffed on a TV show,'" Sorkin reminisced, a rejection of a plum offer that might leave other struggling writers, who would kill for that kind of opportunity, pulling out their hair.
No play?! I strenuously object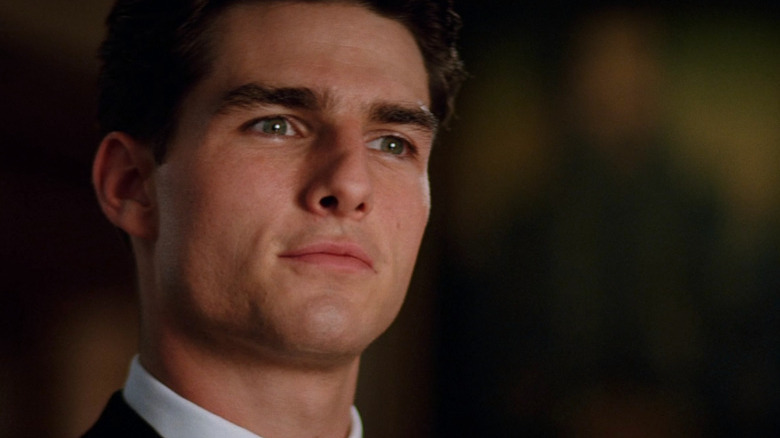 Columbia Pictures
Fortunately for Aaron Sorkin, and for fans of Sorkin's films, it all worked out — and extremely quickly, since his agent just happened to run into someone who worked in development for Oscar-nominated producer David Brown, who previously made "Jaws" and "The Verdict," and Brown just happened to be in looking for another courtroom movie.
"My agent literally had my 'A Few Good Men' script," Sorkin told Vanity Fair. "Four days later — it only took four days because David Brown was on a safari in Africa — David came back, he wanted to meet with me. And here's where things got really crazy: David said, 'I love this and I want to option the film rights.'"
Sorkin, of course, tempted fate once again. Still working as a bartender, Sorkin made it clear to Brown that he really wanted to see the show done as a play rather than a movie. When Brown offered the compromise that it could be produced as a play first before eventually becoming a movie, Sorkin didn't breathlessly accept the deal — he still had questions. He asked Brown if he'd ever produced a play before, to which Brown admitted that he had not. But when Brown offered to hire Robert Whitehead, who produced the Broadway debuts of legends like Arthur Miller and Tennessee Williams, to produce a stage version alongside him, Sorkin finally jumped at the chance.
Closing out the tab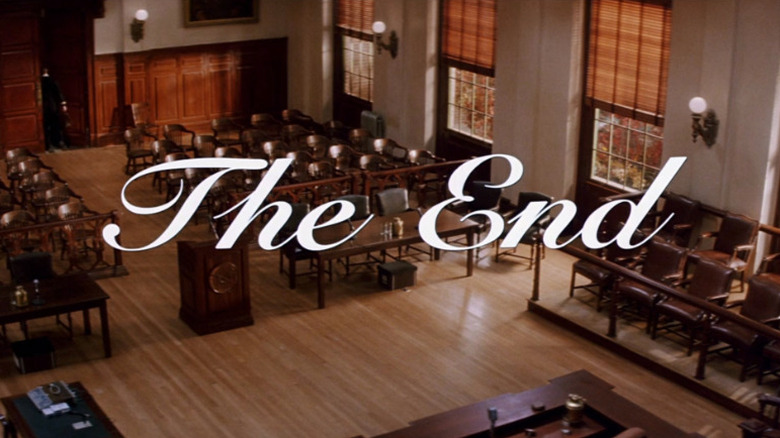 Columbia Pictures
"A Few Good Men" debuted in 1989, and it debuted on the stage. Tom Hulce, the Oscar-nominated co-star of "Amadeus," originally played the part of the heroic lawyer, Lieutenant Junior Grade Daniel A. Kaffee. The villainous Lieutenant Colonel Nathan R. Jessep was played on stage by Stephen Lang, who later co-starred in James Cameron's blockbuster "Avatar" as another villainous Colonel, Miles Quaritch.
By the time "A Few Good Men" reached the big screen in 1992, celebrated filmmaker Rob Reiner was at the helm. Reiner was coming off an impressive string of classic films in various genres, including "This is Spinal Tap," "Misery" and "The Princess Bride." The role of Kaffee was played by Tom Cruise. The role of Jessup was played by Jack Nicholson, and earned him one of his twelve Oscar nominations for acting. The film's impressive supporting cast included Demi Moore, Kevin Bacon, Kevin Pollack, Cuba Gooding Jr., Kiefer Sutherland, and Christopher Guest.
"A Few Good Men" earned four Academy Award nominations, including Best Picture, and jumpstarted Sorkin's impressive career in film, television, and — of course — the theater.
It's an incredible start to Sorkin's resumé, and a dazzling end to his origin story. But the writer put it a slightly different way when telling Vanity Fair about this massive change in his life.
"Then," Sorkin said, "I got to stop bartending."
"I miss it a little bit."