Tim Curry Prefers Psychological Fear Rather Than Blood, Gore, And Make-Up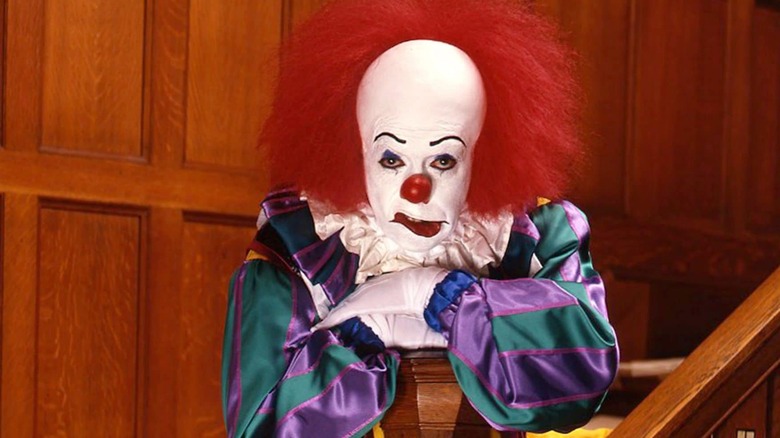 ABC
Out of the roughly 350 million books that Stephen King has sold throughout his career, the 1138 pages he wrote about an evil, trans-dimensional clown may encompass his most famous, lasting work. "It" hit bookstands in September of 1986 and went on terrorize suburban parents and the few brave children who stole a copy off the family bookshelf to read alone with a flashlight under their bed covers. In 2017, Andy Muschietti's film adaptation of "It" went on to gross a staggering $700 million at the box office and the sequel "It Chapter Two" pushed the final tally to well over a billion dollars. 
The name Pennywise is now a household name, even more so than when ABC's two-part "It" TV miniseries invaded the homes of millions of Americans in 1990 just a week before Thanksgiving. Tim Curry's remarkable turn as Pennywise is the most memorable aspect of the two-night event and still remains one of the scariest performances ever seen on cable TV. I was a horror-obsessed kid that had wall-to-wall images of blood and guts stapled all over my bedroom, and the only space I had left was behind my pillow. So, that's where magazine tears of Tim Curry's demented clown ended up and I woke up to his evil grin almost every morning. 
Those particular photos of Curry were taken from issue #99 of Fangoria magazine, the famous one-stop publication for everything horror at the time. On his personal website Ear of Newt, writer Steve Newton shared his report from the set of the "It" miniseries where he interviewed the British actor in full clown makeup near Beaver Lake in Vancouver, British Columbia. Speaking about the genre at length during the interview, Curry admitted he preferred psychological scares to the graphic violence that was starting to become more prevalent.
Tim Curry didn't need latex to be scary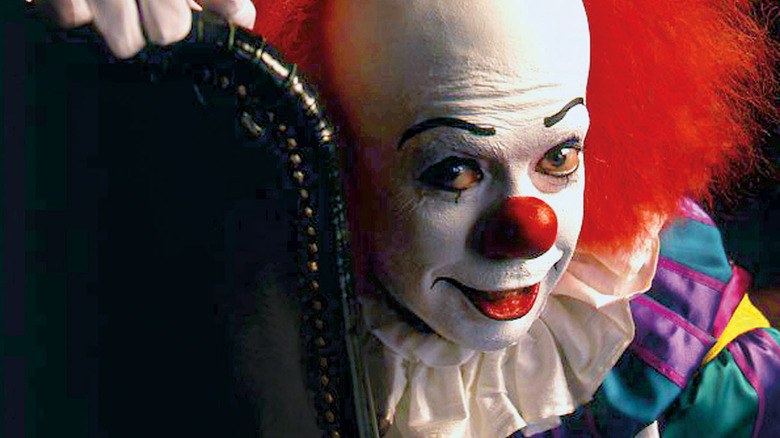 ABC
Already known the world over for his iconic performance as Frank N. Furter in the best rock musical ever made, "The Rocky Horror Picture Show," Curry had already appeared as the magnificent horned demon known only as Darkness in Ridley Scott's "Legend," another role that would prove to have a lasting impact. Curry spent six-and-a-half hours in the make-up chair for "Legend," compared to just a paltry three hours for Pennywise in "It." Not surprisingly, when he spoke to Fangoria (via Ear of Newt) after a long day in costume, he wasn't too ecstatic about the notion of prosthetics. "The most fun, I have to say, is taking it off," said Curry. "The moment they say I'm wrapped, I pull off the nose." 
Coming from the theatre originally, Curry also spoke about not really being much of a horror fan personally, saying:
"Richard O'Brien, who wrote 'Rocky,' very much was, but it's his obsession, not mine. I mean, I'm fascinated by movie villains — I enjoyed Lon Chaney — but in some ways I think that horror movies have got a little too far away from the mind. I personally think that what is the most horrifying is the moment of decision behind somebody's eyes when they decide to kill somebody, rather than a pint of blood and a pound-and-a-half of latex."
That's a fairly common opinion, particularly when it's originating from an actor of Curry's caliber who, strangely, is probably most remembered for his roles in horror or horror-adjacent projects. There is definitely something ageless and sinister going on behind the eyes of Pennywise in Curry's portrayal that taps into some ancient form of madness that transcends way beyond the classic clown makeup. 
A smile gone bad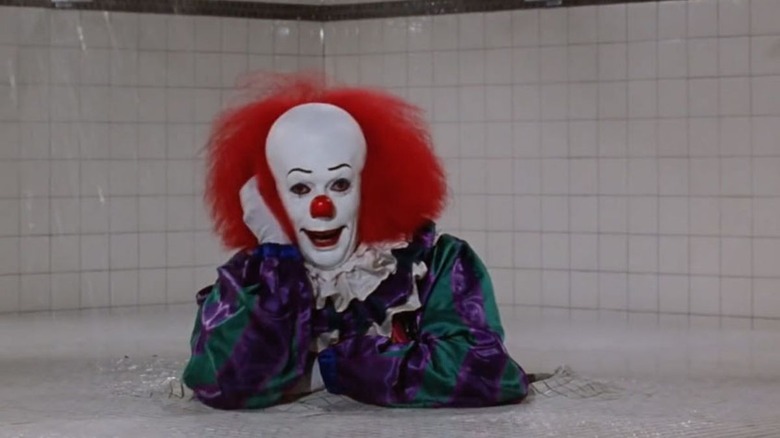 ABC
The Pennywise makeup was actually "a little mixture of all three of us," Curry revealed to Fangoria referring to makeup FX artist Bart Mixon ("Fright Night 2") and director Tommy Lee Wallace ("Halloween III: Season of the Witch"). Closely watching the miniseries, the slight changes to the makeup in the eyebrows and the frown are quite visible, but Curry still made the look entirely his own with such a deliciously wicked performance. Certainly, Curry is remembered for classic comedies like "Clue" and the spy thriller "The Hunt for Red October," but his roles as Frank N. Furter and Pennywise continue to stand the test of time. 
Curry went on to have another classic horror performance acting through the incredible makeup transformations in the season 5 premiere of "Tales From the Crypt" entitled "Death of Some Salesman" where he takes on multiple roles that rival Eddie Murphy in "The Nutty Professor." Still, with the continued cultural impact of Stephen King's "It," Curry's interpretation will always be fun to look back on and compare with Bill Skarsgård's version in the feature films. 
In another quote, Curry has a great description of what makes King's clown such a lasting archetype. "What's fun about him is that a clown is traditionally a very cozy, comforting kind of cheery image, and Pennywise is none of these things. I think of him all the time as a smile gone bad — that's my image for him." Actually, "a smile gone bad" is the perfect way to describe Tim Curry himself.